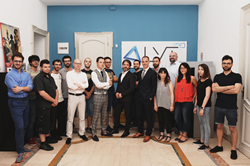 IoT is the next big thing. ALYT aims to become the industry standard IoT platform and has already reached important goals in its young life
Sunnyvale, California (PRWEB) July 12, 2016
LYT Inc. has developed and carried out ALYT, a carrier grade IoT platform, capable of hosting applications and third-party services on a gateway running an Android based operating system that can manage the most common communication protocols in the IoT environment. ALYT is an all in one plug and play hub that links all IoT devices through one hub and managed through a simple to use app.
LYT Inc. mission is to provide clients with an IoT platform that can readily offer services to third parties and allow them to implement vertical solutions directed to the final users in the growing IoT marketplace.
LYT Inc. turnover in 1Q 2016 was 4M USD with a forecast of over 12M USD for the year thanks to key commercial agreements achieved in Europe and the Middle East.
aizoOn is an independent technological innovation company at a global level with headquarters in the US, Australia, Italy and the UK. With a team of over 500 innovation and technology experts, engineers, physicists, statisticians and mathematicians, aizoOn is a well-known and reliable player to support LYT Inc. in advancing its vision to bring the Internet of Things within arm's reach to all users.
"The market of IoT will be the next big thing," says Luca Gaetano Capula, CEO of LYT Inc. "And companies who want to play a key role need to satisfy and assure their clients on two main things that are strategic: cyber security and big data analysis. aizoOn has two business units specialized in these fields. This new partnership allows the company to broaden the offers and raise the position in the market and continue to focus on platform development, so as to be able to offer ready-to-use IoT solutions to clients allowing telcos to access this emerging market immediately."
A hub with any imaginable service is the new challenge for ALYT.
The third generation hardware (that is currently under development) will consist of a single hub that can act as a router, Set Top Box and household hub with professional security elements. A single device with our powerful software that can meet all the needs of the final users at home, offices or in stores.
As stated by aizoOn CEO Silvana Candeloro, "The settings to use sensors and connected objects are endless. The big step will be the possibility to elaborate the processes, products and services; to speed up the entry for all sectors of the digital context. aizoOn's goal is to support clients in end-to-end digital transformation. Why has aizoOn chosen ALYT? To carry digital intelligence in everyday life. Smart home, smart life."
ALYT® LYT Inc. was born when a group of experts in security and building automation came together to create a professional grade product for the everyday user. Our team of highly skilled engineers from all around the world invented ALYT®, with the best technology servicing security and automation, without compromise. ALYT is a product that integrates professional levels of security, the latest functionality in home automation and creates the critical link to the IoT marketplace turning one box into a tailor made solution where possibilities of its use are endless.