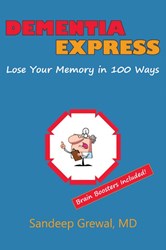 ...World Alzheimer's Month is a great time for people to start a program that will exercise their brain...
Rock HIll, SC (PRWEB) September 27, 2013
This is a month that focuses attention on Alzheimer's Disease and really all forms of dementia. It is a condition that requires an intense level of care both emotionally and financially. While mostly affecting those over sixty years of age, it can also strike much younger individuals. Is there nothing that can be done to ward off this terrible disease?
Sandeep Grewal, M.D. is out to prove that there is a better way of approaching this subject. He feels that a major factor in preventing or retarding the progress of Dementia is to "challenge" the brain. His new book, "Dementia Express: 100 Ways To Lose Your Memory" does just that. This eye-opening book reveals a new method to get the neurons in the brain firing, and thereby nourishing brain cells. The brain is constantly replacing and adding new brain cells, so why not shift it into high gear?
Dr. Grewal masterfully has incorporated humor with the serious subject of mental decline, and what can be done to prevent it from occurring. Turning out another book on the subject that could put the reader to sleep was not his intention, and not what he has done. Dr. Grewal has found the perfect balance between using humor to entertain, while at the same time sharing knowledge on what it takes to retain peak mental functioning.
In Dementia Express, Dr. Grewal is able to illustrate why repeated behavioral rituals make the brain duller, while changing one's routines and methods of doing things activates new brain cells, and nourishes the brain. Dementia Express is chock-full of Brain Booster Tips that will help the brain to re-learn how to process thoughts in such a way as to bring about mental acuity.
Dr. Grewal feels that anything that causes a reduction in mental exercise will accelerate memory loss, and that the converse is also true. Dementia Express gives everyone the realization of how easy it is for us to stop exercising our brains by giving up everyday tasks in our lives. World Alzheimer's Month is a great time for people to start a program that will exercise their brain.
Sandeep Grewal, M.D., who is Board Certified in Internal Medicine, is also a master wordsmith who has empowered people to take control of their brain health through "Dementia Express". He is a Board Member of several well known hospitals and high technology companies. Dr. Grewal is also a noted inventor and author. He was also the recipient of The Charlotte Business Journal's Innovation in Healthcare Award 2012, and named him to the "Top Forty Under Forty List" in 2013. Dr Grewal is named as top ten doctors in the region by the Vital based on patient surveys in 2013.
For complete information on this exciting book, visit Ace Innovation Group.
Media Contact:
ACE Innovation Group
Attn: Press
744 Arden Lane, #100
Rock Hill, SC 29732
803.325.2236