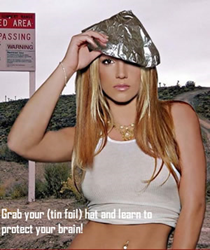 We can see reduced brain reserve capacity, meaning those who might normally have got Alzheimer's or dementia in old age could get it much earlier
Los Angeles, CA (PRWEB) March 10, 2014
(Radio Frequency Safe) RF Safe, a globally known company that specializes in reducing exposure to wireless radiation from handheld devices has been reviewing decade long research on cell phone radiation as it relates to health effects other than brain cancer.
According to studies reviewed by RF Safe, cell phone radiation 'may trigger premature early-onset Alzheimer's' in millions of people because of the adoption of wireless technologies by a much younger age group today. Air-tube headsets eliminate RF exposure to the brain.
Seth Rogen plead to the Senate Appropriations Subcommittee addressing early-onset of Alzheimer's disease, financial cost and the need for funding more research can be seen here. Feb 26, 2014 http://www.youtube.com/watch?v=UHqx3-mfHAY
RF Safe's Founder, John Coates says "that its important to note health effects from radiation exposure are accumulative and damage to cells sometimes takes decades to render disease such as cancer or Alzheimer's."
Coates says "if we see an increase in a disease that takes a long time to manifest, it is wise to look at the research predating any surge in incidence rate which may have predicted such an outcome."
Rf Safe has found research dating back to 2003 suggesting exposure to cell phone radiation may cause an increase in early on-set of neurological disease.
RF Safe claims this is important because damage to neurons from phone radiation may trigger premature early-onset Alzheimer's' and this risk from radiation exposure can be completely adverted with the use of a simple but very effective air-tube headset.
At Lund University Hospital their research has focused not on the cancer risk but on damage to neurons in the brain.
Professor Leif Salford research was first published in Environmental Health Perspectives, the journal of the U.S. government's National Institute of Environmental Health Sciences.
Jun 2003; 111(7): 881–883. Titled Nerve cell damage in mammalian brain after exposure to microwaves from GSM mobile phones. http://www.ncbi.nlm.nih.gov/pmc/articles/PMC1241519/
Professor Leif Salford, head of neurosurgery at Lund University Hospital, said: 'We have already shown that mobile radiation can allow harmful proteins and toxins through the blood-brain barrier in rats.
The 2003 report in its entirety http://www.ncbi.nlm.nih.gov/pmc/articles/PMC1241519/pdf/ehp0111-000881.pdf brings into question Alzheimer's and cell phone radiation exposure.
"Now we see a significant degree of damage to the neurons in the brains of what you could call adolescent rats. If this effect were to transfer to young mobile users the effects could be terrifying."
"We can see reduced brain reserve capacity, meaning those who might normally have got Alzheimer's or dementia in old age could get it much earlier." said Professor Leif Salford
Prof Salford experimented on rats aged 12-26 weeks because their brain cells are still developing in a similar way to those of teenagers.
Three groups of rats were exposed for two hours to radiation equivalent to that from mobile phones. After 50 days of exposure sections of their brains were removed and examined under a microscope. Those animals exposed to medium and high wattage of radiation had an 'abundant occurrence' of dead neurons.
The report concludes: "After some decades of often daily use, a whole generation of users may suffer negative effects as early as middle age."
RF Safe's founder thinks there are not enough people talking about how to keep their brain safe from radiation.
While the wireless industry claims cell phones are safe, enough evidence has stacked up against them that - Hawaii could be first state to require by law that consumers are made aware of potentially dangerous cell phone radiation emissions from wireless devices with cell phone warning labels on radiation health hazards.
"Everyone knows that an ounce of prevention is worth a pound of cure. RF Safe Air-tube Headsets weigh much less than an ounce and they are the best protection your brain can get from cell phone radiation when text or speaker phone is not an option" says Coates
Use an air-tube headsets and learn what Smartphone accessories can reduce excessive cell phone radiation to the brain and body at http://www.rfsafe.com.