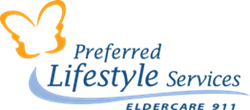 The impact of Alzheimer's disease is felt by every member of the family.
Boca Raton, Florida (PRWEB) September 25, 2013
"I see the effects on families every day," says Judie Rappaport, founder of Preferred Lifestyle Services Geriatric Care Management. "Everyone knows about the rising costs of health care, but many are not aware of the escalating, sometimes debilitating costs involved when caring for a loved one with Alzheimer's disease."
During her more than twenty years of research and education in Eldercare, Judie has come to refer to Alzheimer's (AD) as a family disease.
"The impact of AD is felt by every member of the family," explains Judie. "If Grandma has AD, Mom may have to reduce her work hours in order to care for her mother. That reduced income can change the way of life for the entire family."
One of the little-known and rarely talked-about facts of eldercare is that the majority (estimated at 70%) of care comes from unpaid family members. Many caregivers are the adult children of those suffering from AD.
Frequently, the primary caregiver is working a full time job, managing a family, and sometimes even sacrificing his or her own health in order to care for the AD loved one.
"Sadly, AD shows no signs of slowing," reports Judie. Studies show that from 2000-2008 death rates for heart disease, breast cancer, prostate cancer, stroke, HIV/AIDS declined but deaths from Alzheimer's disease increased 66%.
Such evidence predicts that the need for AD care will increase dramatically in near future.
Since AD is a progressive, long-term disease, lasting on average from 2 to 20 years, the effects and changes to caregivers and other family members are also both progressive and long-term.
As the disease advances, families who managed initially may need to make further adjustments to their homes (for safety concerns), work hours, social commitments, school activities, entertainment, and future plans to accommodate their loved one.
Judie goes on to reveal that she has seen families lose their life savings, enter into financial crisis, marital turmoil, even lose their homes, in order to provide the needed care.
Reports indicate that in 2012, 15.4 million caregivers provided an estimated 17.5 billion hours of unpaid care valued at more than $216 billion. Judy knows that the true cost of this care was shared by thousands of families across America.
So, what can be done to protect families from the devastating chain reaction brought on by AD? Here are Judie's recommendations:
"Pick up the phone now and call your local Alzheimer's Organization or the hospital nearest you to find an Alzheimer's-specific support group to help you learn new coping skills to lower caregiving stress and how get more bang for your medical buck."
"Consult an Elder Law attorney (http://www.naela.org/) for help identifying and coordinating public and private resources to help finance the cost of care. Elder Law attorneys specialize in planning for senior care and financial needs and can help protect your parents' assets and yours."
Judie's best advice for families entering into the realm of caregiving? "Don't go through this alone! Let others help you locate all the assistance available."
Judie Rappaport is the President of Preferred Lifestyle Services which provides geriatric care management services specializing in care for families with Alzheimer's and related dementias. She writes a blog as well as a question and answer forum for Alzheimer's disease and related dementias. She is the co-author of the well-received books, Eldercare 911: The Caregivers Complete Handbook for Making Decisions and The Eldercare 911 Question and Answer Book. Judie also writes, Eldercare 911, a weekly column answering readers' caregiving questions. The successful column is in it's 7th year in Florida's Scripps Treasure Coast Newspapers.
For more information on eldercare specializing in the care of those with Alzheimer's disease and related dementias, contact Judie Rappaport at JR(at)prefsvcs(dot)com or phone 561-277-9544 Judie's blogs and articles can be found at: http://www.dementiaexpert.com and http://www.preferredlifestyleservices.com.