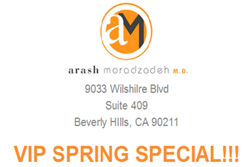 Beverly Hills, CA (PRWEB) April 19, 2016
AM Facial Plastics has announced that they will host a special Spring VIP event on April 27, 2016.
This is an exclusive spring special that will be available for one day only. Dr. Arash Moradzadeh's office is hosting the event that will include specials on the following treatments and products: Dysport, Restylane and a chance to win a complimentary COOLSCULPTING session. At this special event, a patient can accumulate up to $200 in discounts, along with complementary prizes.
AMfacialplastics.com, the website of Dr. Arash Moradzadeh, provides information about a number of cosmetic procedures that are designed to help patients look their best. Dr. Arash Moradzadeh is a surgeon that has received training in both ENT/Head & Neck Surgery and Facial Plastic & Reconstructive Surgery. At his offices located in Beverly Hills and Santa Barbara, Dr. Arash Moradzadeh along with his associates will meet with patients to perform the procedures and educate patients on the newest available treatment technologies.
Dysport is a cosmetic treatment that works exactly like Botox. It is designed to eliminate and prevent wrinkles, restoring the volume and fullness of the patient's face. Normally priced at $5/unit, Dysport will be available for only $3/unit at this special event. In addition, the first 10 callers to RSVP for this event will receive 30 complimentary units of Dysport, an offer which is available to event attendees only.
Restylane is a dermal filler for lips, cheeks, smile lines and more. Normally, Restylane is priced at $750/cc. However, for this special event it will be offered at $550/cc and the Restylane Lyft will be available for only $575/cc. Restylane helps patients to improve their skin while leaving them feeling refreshed and rejuvenated.
There will also be prizes, appetizers and cocktails at this event. All attendees will be automatically entered into a drawing to win a complimentary COOLSCULPTING session, which has a value of $750. COOLSCULPTING is an FDA-approved procedure to freeze fat away in a one hour session with no surgery or downtime.
For patients are interested in any of these treatments or products, Dr. Arash Moradzadeh has requested that patients email the office or call to RSVP. Space is limited for these events and the promotions are only available to those in attendance. The phone number to call for more information is (310) 659-9900 or interested patients can email michele(at)amfacialplastics(dot)com.
About amfacialplastics.com: amfacialplastics.com is the website for the office of Dr. Arash Moradzadeh. Serving patients via their offices in Santa Barbara and Beverly Hills, Dr. Moradzadeh provides facial reconstruction procedures, as well as, cosmetic treatments. For more information about Dr. Arash Moradzadeh, visit amfacialplastics.com.