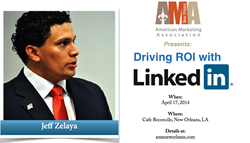 We're very excited to have Jeff present to our chapter. It's important for our members and other professionals in New Orleans and the surrounding areas to learn how to take advantage of LinkedIn. -Neel Sus, AMA NOLA President
New Orleans, Louisiana (PRWEB) March 31, 2014
The New Orleans Chapter of the American Marketing Association (AMA NOLA) has invited LinkedIn Speaker, Jeff Zelaya to present on April 17th at Cafe Reconcile in New Orleans.
Jeff Zelaya is a marketing consultant, AMA member and the #1 most recommended LinkedIn speaker under 30. By leveraging LinkedIn and Social Selling Jeff Zelaya has generated $1.2 million dollars in 18 months. In this presentation he will be sharing the story on how he did it and teaching attendees how they can do the same for themselves and their business.
When asked what attendees can expect to learn from his workshop, Jeff says, "Attendees will be shown how they can take their LinkedIn presence to the next level and discover the vast opportunities that await – increasing awareness, influencing perception, generating leads, and ultimately driving revenue with LinkedIn is what they can expect to gain from my presentation."
Neel Sus, the AMA NOLA Chapter had this to say about Jeff's upcoming visit to New Orleans: "We're very excited to have Jeff present to our chapter. It's important for our members and other professionals in New Orleans and the surrounding areas to learn how to take advantage of LinkedIn as an opportunity for building relationships and increasing business." 
This presentation is open to AMA members and to non-members alike.
When: Thursday, April 17, 2014
Time: 11:30 AM - 1:30 PM
Location: Cafe Reconcile, 1631 Oretha Castle Haley Blvd, New Orleans, LA 70113
Registration Fee:
AMA Members: $35.00
Non-Members: $45.00
Students: $25.00
Register here: http://www.amaneworleans.com/eventcalendar?eventId=877754&EventViewMode=EventDetails
About Jeff Zelaya:
Jeff Zelaya is a marketing, sales and public relations consultant. He's a professional public speaker and founder of South Florida's leading speakers' bureau. Jeff works at Vocus and is an award-winning Sales Executive and Trainer for this publicly traded cloud marketing software company based out of Beltsville, MD. Jeff, his wife Emma and his newborn son Elijah currently reside in the Washington D.C. area.