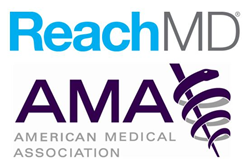 As physicians face the most significant change to Medicare's physician payment system in 25 years, we are pleased to partner with ReachMD on this series.
Fort Washington, PA (PRWEB) October 12, 2016
Physicians today, more than ever, have a strong voice in shaping the future of Medicare payments and how clinicians should be compensated for their services, according to Andy Slavitt, acting administrator of the Centers for Medicare & Medicaid Services (CMS). Both Slavitt and Andrew Gurman, MD, President of the American Medical Association, are featured guests on the ReachMD Series 'Inside Medicare's New Payment System'. They share their perspectives on merit-based incentive payments, patient-centered care models, regulatory changes, and more.
The ReachMD Series is produced in collaboration with the American Medical Association, the largest physician organization in the United States. Eight expert interviews and short-segment podcasts are available immediately, including:
1. The Future of Medicare Payment Reform: Perspectives on MACRA with CMS's Andy Slavitt
2. Thoughts on Physician Advocacy and Payment Reform with AMA President Andrew Gurman, MD
3. Implementing MACRA: The AMA's Keys to Advancing Opportunities, Avoiding Pitfalls
4. Preparing for Quality Reporting: Keys to Keeping Your Practice on Track
5. Why Participating in Clinical Practice Improvement Activities (CPIA) Matters
6. How an EHR Can Help You Participate in MACRA
7. APMs in Cancer Care: The Patient-Centered Oncology Payment Model
8. The Rise of Specialist-Driven Alternative Payment Models in American Medicine
"These are timely interviews because physicians are at the forefront of ensuring their voices are heard with policymakers," said Matt Birnholz, MD, host of the Series and Vice President and Medical Director of ReachMD. "Both CMS and the AMA want physicians to fully appreciate potential changes to their practices, and this series offers insights from key influencers along with downloadable information to help clinicians stay up to date."
"In a complex and evolving health care system, the AMA is shaping informed policies that remove barriers to running sustainable practices," said AMA President Dr. Andrew W. Gurman. "As physicians face the most significant change to Medicare's physician payment system in 25 years, we are pleased to partner with ReachMD on this series – one of many concrete steps we are taking to ensure that physicians have a better understanding of how they will be affected and get a fair shot at success under MACRA."
About ReachMD
ReachMD lets healthcare professional Be part of the knowledge® by discovering, participating in, and sharing medical education and clinical information across a powerful digital broadcast network. Its streaming radio and on demand programming is delivered through the websites and mobile apps of ReachMD, iHeartRadio, TuneIn, iTunes, and Stitcher. ReachMD has produced more than 10,000 broadcasts, making it the leading resource for healthcare professional audiences. More information can be found at http://www.ReachMD.com.