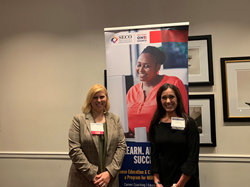 "As a military spouse, my experience at Amada helped me develop my professional skills in an environment where I felt valued. I was able to make connections and plug in to my community while doing something that was truly making a difference in the lives of others."Taylor French, Military Spouse
SAN CLEMENTE, Calif. (PRWEB) October 26, 2019
Amada Senior Care, the premier employer of trained caregivers providing nonmedical, in-home care to seniors, was inducted as an official employer of the U.S. Department of Defense Military Spouse Employment Partnership. Amada President, Chad Fotheringham, accepted the inductee award at the New Partner Induction Ceremony and Partner Meeting, where Second Lady Karen Pence took the podium as the closing speaker.
Amada has been hiring military spouses for caregiver and administrative positions even before officially becoming an MSEP partner last April upon successful completion of a stringent vetting process. On Oct. 22th, Amada was among 42 companies and organizations inducted at the hour-long ceremony held at the Crystal Gateway Marriott in Arlington, Virginia.
Amada President, Chad Fotheringham and Operations Support Manager, Heidi Maddocks also are participating in pre- and post-event Partner Meetings during which discussions are held on how to improve recruiting, hiring and promoting military spouses, and other ways to better support their search to find and maintain a career they deserve. They were joined by Ken Jenson, owner of Amada Colorado Springs and Amada Omaha; Rich Frizzell, owner of Amada Mid-Maryland; and Dan Homa, owner of Amada Annapolis.
"Amada is honored to be selected by the Department of Defense to be formally named to the Military Spouse Employment Partnership," said Amada President Chad Fotheringham. "We have always been proud to employ spouses of our military members. They have been some of Amada's most successful caregivers, recruiters, schedulers and office managers because our company values and those of the military culture coincide."
"Amada's Core Values like Compassion, Confidently Humble, and Competitively Driven to Be The Best are qualities that seem to be naturally engrained in military spouses, which make them a perfect fit for working with Amada and our seniors," added Fotheringham. "Military spouses fit right in with all our other employees who live these values every day. This is a huge honor for us at Amada and we are fully committed to finding jobs for these incredible military spouses who are the backbone of support for our service personnel."
Just one example is Taylor French, a military spouse employed by Amada to create content for marketing collateral, website pages, corporate communications and blog posts. "As a military spouse, my experience at Amada helped me develop my professional skills in an environment where I felt valued and appreciated for what I brought to the table. I was able to make connections and plug in to my community, while doing something that was truly making a difference in the lives of others. Amada recognizes the unique skills that military spouses possess and celebrates our contribution to the workplace."
As an official MSEP partner, Amada commits to increasing employment opportunities for military spouses, and when possible, maintain those opportunities as they relocate. Support to military spouses includes competitive wages and benefits, flexible schedules, mentorship, certified training and opportunities for career advancement.
"The Military Spouse Employment Partnership is so important to reducing the unemployment rate among our military spouses," SLOTUS Karen Pence said in her prepared remarks. "Today, with the induction of 2019 new partners, more than 400 businesses participate in this partnership. I'm excited to be at this year's induction ceremony with 42 new partners. Your new partnership will make a difference and help our nation's readiness."
Amada President, Chad Fotheringham accepted the inductee award from Dave Julian, Acting Principal Director, DOD, Military Community and Family Policy. "Today, the DOD has the distinct honor of inducting 42 new employer-partners into the partnership – all of who have pledged to recruit, hire and retain military spouses – recognizing both their unique talents and the challenges they face as they too serve our country."
The Department of Defense Military Spouse Employment Partnership is an employment and career partnership that connects military spouses with hundreds of partner employers who have committed to recruit, hire, promote and retain military spouses. More than 137,000 military spouses have been hired through MSEP, now in its eighth year.
"The Military Spouse Employment Partnership (MSEP) gives Amada priority access to a unique and talented group of professionals – military spouses," said Amada Operations Support Manager, Heidi Maddocks. "They are skilled, diverse and motivated, with a strong work ethic."