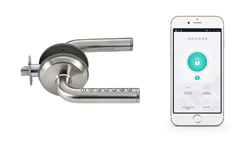 We're excited to offer consumers a versatile, user-friendly, ultra-secure lock that anyone can use, unlike other limited options on the market.
SEOUL, South Korea (PRWEB) August 19, 2016
AMADAS launched a crowdfunding campaign on Kickstarter today with plans to raise $70K for mass production of their patented smart lock. The smart lock offers an impressive set of security features for consumers including keyless entry using a companion app or PIN code access, an emergency charging solar panel in case the lock's batteries die and a solid, stainless steel casing to deter intrusions.
"Not only does our smart lock offer advanced security features to protect consumers and what matters most to them, but it is easy to install, compatible with most standard doors and offers a variety of styles and high-end finishes to match virtually any home exterior," AMADAS CEO and founder Park Eun-Min said. "We're excited to offer consumers a versatile, user-friendly, ultra-secure lock that anyone can use, unlike other limited options on the market."
AMADAS operates using only two AA batteries. However, should the batteries die, homeowners can power the device in under 20 seconds using their smartphone flashlight (or any flashlight) via the emergency solar panel. Additionally, installation can be done in a matter of minutes and only requires a standard screwdriver. This D.I.Y. approach preempts the need to call a locksmith and eases the transition to a smart lock from the traditional lock and key system. Additionally, AMADAS' stainless steel casing is both waterproof and anti-corrosive to ensure durability and enhanced security for indoor or outdoor use.
Consumers may use AMADAS for personal or professional use. Whether renting their home through companies like Airbnb or VRBO, or protecting their office from intruders, AMADAS offers a variety of features to keep consumers safe and in control. AMADAS connects through a keyless entry application that is compatible with both Android and iOS software. The Bluetooth 4.1 and smart card technology offer connectivity, as well as advanced security algorithms through AES encryption.
AMADAS enables both smartphone and manual pin code access, which means users do not require smartphone or Wi-Fi/cellular data connection to enter their home. For guests, homeowners can assign temporary PIN codes for their visitors. AMADAS can also be unlocked remotely when connected to the home gateway. Consumers who rent their homes no longer have to worry about their keys being copied or changing their code when someone temporarily stays over.
AMADAS is now available on Kickstarter at a discounted price starting at $169. The AMADAS team aims to raise $70K during its campaign and encourages backers to take advantage of this limited time offer. Backers can purchase their own AMADAS lock at bit.ly/AMADAS_KS.
About AMADAS
Founded in 2014, AMADAS is a Korean startup founded by Park Eun-Min. As a metal craft graduate from Seoul National University, Eun-Min has applied her skills to develop the AMADAS smart lock. The startup has worked closely with a wide-range of teams for the past eight years to develop AMADAS and introduce the product worldwide. For more information on AMADAS, visit http://www.amadas.kr.