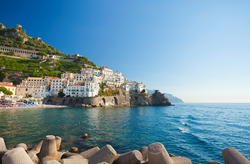 This active vacation is filled with wonder and beauty.
Arlington, MA (PRWEB) January 28, 2015
Discerning travelers can surprise their loved one this Valentine's Day with the gift of travel as Ciclismo Classico is proud to announce a 15% discount on its June 6, 2015 cycling tour of the Amalfi Coast. Book by February 14th to save. For more information, visit http://www.ciclismoclassico.com/trips/bike-tour-amalfi-coast/.
On this combo hiking-and-biking tour of the Amalfi Coast and Cilento, the beauty of pastel villages atop cliffs that plunge toward the shimmering blue Mediterranean will intoxicate the senses. Along one of the most beautiful coastlines in the world, guests will hike trails and ride along coastal roads past silvery olive trees, secluded fishing inlets, sandy beach resorts, and aromatic citrus groves.
This active vacation is filled with wonder and beauty, and concludes each evening with feasts that abound in savory southern Italian cuisine, famous for its richness of flavor and natural ingredients. Fettuccine al limone, zuppa di pesce, risotto alla marinara, or spaghettini alle vongole are just a few of the traditional dishes that will tantalize the taste buds.
Highlights:

Excellent hiking & biking
Tasting the storied flavors of Campania: fresh vegetables, gnocchi, local wines, & olive oil
Exploring the best of the region: Positano, Ravello, Capri and Paestum
Discovering locally-made limoncello, Amalfi's lemon liqueur
For more information on this tour or other Italy bike tours, visit http://www.ciclismoclassico.com or call 1.800.866.7314.
About Ciclismo Classico:
Join a Ciclismo Classico tour and you'll soon find yourself "Pedaling your Passion," a uniquely Italian approach to bicycle travel that embraces La Dolce Vita at every turn and invites you to find your very special passion on every tour. Whether it's soaking in the scenery, learning to make pasta, taking hundreds of photos or learning about Renaissance architecture, you'll re-connect with your own passion with our special native guides who connect you to the culture and landscape like no one else can. Ciclismo Classico transforms a European cycling trip into an eye-opening, life-altering adventure you'll never forget. Come ignite Your Passion and pedal with us!