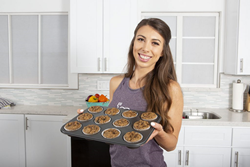 Amanda's audience blows me away. Women are ravenous to consume Amanda's content with over 1,000 E-Fitness books purchased a month completely organically without a digital ad campaign - Morgenstein
LOS ANGELES (PRWEB) May 08, 2019
Social media star Amanda Meixner (Instagram: @meowmeix) has decided to take her talents to Premier Management Group for brand management, endorsement procurement and partnership activation. Meixner 28, sees many opportunities in the market-place that has changed rapidly in the last few years, "When I first started influencers were all doing one-off posts for brands. I really never liked that lack of dedication and commitment from the brands or the influencers. After speaking with Evan and Christina (PMG's CEO and Vice President respectively) I see a vision for building my portfolio, not feeling like I am selling out and creating longer-term engagements with brands I absolutely love!".
As the landscape for influence continues to evolve, influencers are looking at more complex and sophisticated relationships with brands including traditional media, press, appearances, and equity partnerships, as well as leveraging their own social assets. Meixner, who lives in Southern California and is scheduled to be married in October 2019, has a massive following with staggering demographics. Instagram, being Meixner's main social media platform, provides her with an opportune platform to set up her "media company" where she creates her own content, edits it and shares her passions and strong beliefs. Meixner's audience of 1.2 million followers is primarily female-focused, with 85+% of her audience being women and the demographic being 24-45-year-old females/moms. In the current environment, most female influencers are having a very tough time aggregating women to their communities.
PMG CEO Evan Morgenstein thinks Meixner's opportunity is limitless, "Amanda's audience blows me away. Women are ravenous to consume Amanda's content with over 1,000 E-Fitness books purchased a month ($15USD) (http://www.meowmeix.com) completely organically without a digital ad campaign, her top-selling meal plan with FitPlan (http://www.mealplan.com) and many new projects about to launch. Amanda is a diamond in the rough. Not yet globally known, Amanda has the potential to become the next Jillian Michaels meets Dr. Oz". With her personable videos that show Amanda in a relatable fun way, women consume hours of her content daily on how to eat clean, workout, and tips on how to truly experience a fulfilling life.
Meixner's brand focuses on the identifiable life of active women and moms who live on the go, get stuff done and want to feel good about their life choices for both them and their families. Meixner's stories and videos on Instagram, and on her website, are some of the newest and freshest ideas on social media. At the 2019 Expo West, Meixner was literally attacked by brands wanting her involvement in marketing, promoting, selling or consulting with their brands. Meixner was definitely surprised, "I had never been to Expo West before and was I in for a surprise. You never know how people receive your content on social media. "...To have that many amazing brands come up to me was just shocking and so gratifying. Graduating from the University of Southern California (USC) with a degree in marketing I never thought I would be able to merge all of my passions for a healthy lifestyle and helping other women looking for the same".
Evan Morgenstein
Premier Management Group
evan(at)pmgsports.com
(919) 332-0584