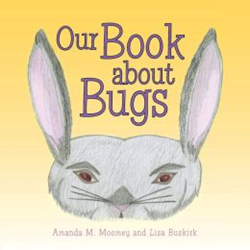 The way we teach our children to deal with it is what matters.
Milton, Fla. (PRWEB) March 14, 2014
In "Our Book about Bugs: (A True Story)" (published by LifeRich Publishing), authors Amanda M. Moomey and Lisa Buskirk introduce the concept of death to young readers through the heartwarming story of a family and their pet.
Based on true events, "Our Book about Bugs" is both touching and educational. When a family adopts a white bunny named Frosty, they grow to love their new pet, who soon gives birth to a litter of bunnies. The children love playing with the new bunnies, especially a grey one named Bugs.
Later, Frosty dies, leaving the children confused and sad. The children soon learn that Frosty lives on through her children, which brings them comfort and allows them to love Bugs as much as they did Frosty.
Moomey hopes children will learn to find something positive in a sad situation. Additionally, parents may find "Our Story about Bugs" helpful when explaining the loss of a pet to their children.
"It is a fact of life that at one point or another, we must deal with the concept of death," says Moomey. "The way we teach our children to deal with it is what matters."
"Our Book about Bugs"
By Amanda M. Moomey and Lisa Buskirk
Softcover | 8.5 x 8.5 in | 24 pages | ISBN 9781489700759
E-Book | 24 pages | ISBN 9781489700766
Available at Amazon and Barnes & Noble
About the Author
Amanda M. Moomey is the author of children's books such as "Our Book about Bugs" and "What Do You Dream of at Night?" with several more in the making, including poetry books. She earned a degree in marine biology and volunteers with several marine organizations along Florida's Gulf Coast. She loves to travel and spends most of her time with her husband and son.
LifeRich Publishing, the strategic publishing partnership of Reader's Digest and Author Solutions, LLC, was created to provide all writers a platform for sharing their stories, recipes, advice and more. LifeRich authors will benefit from a wealth of editorial design, marketing and education resources, specially created by Reader's Digest editors for the enrichment of these LifeSmart individuals. Books can be published in print, ebook or audio formats, with additional distribution to up to 25 million Reader's Digest customers through its online properties. Follow @LifeRichPub on Twitter or "Like" us at facebook.com/LifeRichPublishing for the latest updates.