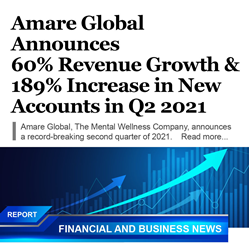 "Amare exists to help others achieve health and wealth," said Amare Founder & Chief Executive Officer Hiep Tran
IRVINE, Calif. (PRWEB) July 01, 2021
Amare Global achieved record-breaking business performance in the second quarter of 2021. Compared to the prior quarter, Amare's revenues increased by 60% and new accounts grew by 189%.
These results were driven by a simplified customer acquisition process, dramatically increasing the velocity of our sales leadership. The company also launched Amare EDGE(TM), a new natural product for better mood, motivation, and metabolism. A record number of sales leaders received rank advancement bonuses during the quarter.
"Our sales leaders experienced fantastic growth in these past 3 months," said Amare Chief Financial Officer Kent Wood. "This growth is driven by droves of new people wanting to be part of what is happening here at Amare. Our lucrative compensation plan is rewarding more people with more money than ever before."
Founded in 2016 as The Mental Wellness Company(R), Amare Global has pioneered an entirely new category in the natural products industry. Its recent enhancements to the business have accelerated growth opportunities for more new sales distributors to join and succeed.
"Amare exists to help others achieve health and wealth," said Amare Founder & Chief Executive Officer Hiep Tran. "When we are given such a gift, we spend the rest of our lives trying to help others win. It's time to move forward and change the world!"