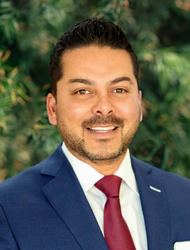 "I am looking forward to sharing my talents and contributing to Amare's growth as we strengthen existing markets and expand into new ones," said Gabriel Sanchez.
IRVINE, Calif. (PRWEB) September 23, 2021
Amare Global, the category leader in all-natural mental wellness solutions, is pleased to announce the appointment of Gabriel "Gabby" Sanchez to the role of Chief Sales Officer. Sanchez will be joining Amare with nearly two decades of domestic & international business development experience. His most recent role was President of The Americas Region at a Top 10 Global direct-selling company. This region represented 70% of total company revenue. Sanchez was instrumental in enabling the company to expand into new markets, driving rapid growth. He joins Amare two weeks after the appointment of Jared Turner as Chief Executive Officer, with Amare's Founder, Hiep Tran, stepping up to his new role as Chairman.
"Gabby is a huge asset to Amare. He's not only an amazing business leader with expansive international experience, but he's an inspiring builder of people, both in corporate and the field," said Amare Chief Executive Officer Jared Turner. "I've worked alongside him for many years. His passion, business instincts, and work ethic are phenomenal. In addition, he has a big heart and strives to create a work culture of inclusion, kindness, and mentoring."
Amare, currently distributed in the United States and Mexico, is poised for rapid domestic growth and expansion into new international markets. Amare's scientific product formulations leverage discoveries that prove the gut microbiome is the body's "second brain." The company features twenty-four patented all-natural products for mental fitness, confidence, stress resilience, weight wellness, and gut health. In addition, Amare empowers financial wellness through its entrepreneurial business opportunity in the $121 Billion global market of mental wellness.
"I am humbled by the opportunity to join Jared and the Amare family in this journey of transforming the lives of people around the world. I have been greatly inspired by Amare's purpose to make the world a better place through mental wellness," said Sanchez. "I am looking forward to sharing my talents and contributing to Amare's growth as we strengthen existing markets and expand into new ones."
About Gabriel "Gabby" Sanchez
Gabriel Sanchez was born in southern Mexico, where he lived throughout college and law school. He completed his Masters in International law at Brigham Young University Law School and practiced international business law for 12 years. Gabby's true purpose is mentoring and empowering others. Therefore, he decided to join a Top 10 direct-selling company in 2012. He was responsible for The Americas Region, which represented 70 percent of the company's total revenue. Gabby's drive and determination enabled the company to expand into new markets very rapidly, thus impacting the company's overall growth.
About Amare Global
Amare Global® (amare.com) was founded in 2016 as The Mental Wellness Company®. Its name, Amare, means "to love" in Latin. The company proudly proclaims its #1 core value is Love, and its mission is to create more love in the world. Amare is the category leader in the $121 billion market of mental wellness. Privately held and funded, it is one of the fastest-growing natural health products and direct selling companies. In addition, Amare empowers financial wellness through its entrepreneurial business opportunity. Its patented and award-winning product formulations leverage the emerging science of the gut microbiome, the body's "second brain."