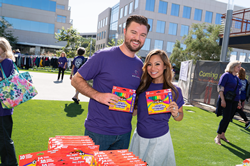 "This event recognizes the importance of serving others and giving back to those who have served our country."
IRVINE, Calif. (PRWEB) August 22, 2019
Amare has teamed up with Working Wardrobes to host a clothing drive and special event to give back to US military veterans in the local community at this year's Amare Heart2Heart Mental Wellness Symposium Service Day event. The Heart2Heart Mental Wellness Symposium will take place Sept. 5–7, 2019, at the Hilton Anaheim, CA, and the Service Day event will take place at the company's corporate campus, Saturday, Sept. 7, in Irvine, CA.
Amare, The Mental Wellness Company®, is currently accepting business/interview-appropriate clothing through donations to provide to the service men and women. This event is in partnership with local nonprofit, Working Wardrobes, which has helped thousands of veterans, and other men and women in the community, "overcome difficult challenges, so they can achieve the dignity of work."
Amare is gathering donations from its tens of thousands of customers and Independent Wellness Partners from all 50 states. Donations are also accepted from the public. The clothes will help veterans transitioning back to civilian life and re-entering the workplace. Back-to-school backpacks and school supplies will also be donated to active military families.
"It's an honor to serve our veterans and their families," said Hiep Tran, Amare Founder & CEO. "Service is one of our five Core Values at Amare. This event recognizes the importance of serving others and giving back to those who have served our country. We look forward to hosting local military veterans and seeking to empower their efforts to achieve employment. It's exciting to partner with an amazing local organization like Working Wardrobes, while leveraging the generosity of our Amare community from all 50 states!"
This event will feature a performance by the New Directions Veterans Choir, who were featured on Season 5 of NBC's "America's Got Talent." The award-winning a cappella choir includes veterans of the US military.
The Service Day is part of Amare's Heart2Heart Mental Wellness Symposium, which is held annually by Amare. The fall event will include speeches from leading mental wellness experts, including members from Amare's Scientific Advisory Board and Mental Wellness Advisory Board. Kidnapping survivor Elizabeth Smart and bestselling author Steve Farber will be featured speakers at the event.
Amare's Service Day event will be held from 2–5 p.m. at Amare's corporate campus at 17872 Gillette Ave Suite 100, Irvine, CA, 92614. The event is open to anyone who registers for the Heart2Heart Mental Wellness Symposium.
For more information about the Heart2Heart Mental Wellness Symposium, Service Day and how to register for tickets, visit amare.com. Media inquiries and/or interview requests may be sent to Mahsa Khalilifar at mkhalilifar (at) amare (dot) com.
About Amare Global
Amare Global® (amare.com) was founded in 2016 as "The Mental Wellness Company" and spent the better part of 2017 formulating nutraceutical products focused on modulation of the microbiome and optimization of the gut-brain axis (GBX) to improve many aspects of mental wellness. With a vision to lead the global mental wellness revolution, Amare's mission is to create a holistic mental wellness platform of products, programs and people. Amare's product formulations combine ancient natural wisdom with modern scientific innovation to develop natural health products and programs based on the emerging science of the microbiome.
Note: The US military is not affiliated with Amare and hasn't endorsed this event.