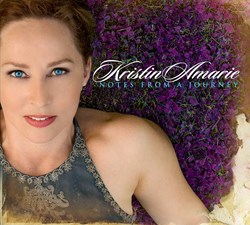 It is time for the world to discover this compellingly beautiful and exciting new voice! Open your hearts and ears for Kristin Amarie... a rising star!
New York, NY (PRWEB) October 15, 2013
This may be one of the most romantic love stories between artists in recent years, their love and longing openly exchanged in heart-felt lyrics and yearning piano music. Norwegian vocalist/musician Kristin Amarie was so moved by the music of new age piano legend David Lanz that she crossed the globe to attend one of his music workshops. Never did she expect that, just a few years later, she would be releasing Notes from a Journey with contributions by the Grammy®-nominated pianist/composer. This Fall, the two are celebrating their collaboration, love story, and new album releases with a series of House Concerts in upstate New York.
Amarie's name may be new to some in the U.S., but she has spent half her life studying and performing music all over the world from the shores of Norway to Cyprus, Bangkok to Moscow, Seattle to New York. In doing so, she has gathered a following of fans who appreciate her impressive vocal range, her musical reach across various genres, and her noteworthy ability to sing in five languages.
Fortunately for us, her adventurous life is richly reflected as sonic armchair travels on Notes from a Journey, which has a lush and positive New Age sound crossing over with neo-Classical, World and even Scandinavian Folk music. Top notch contributors on the album include Grammy®-nominated producer Alex Salzman (keyboard and guitars), Tony Aiello (flute, soprano saxophone), Joe Deninzon (violin) and Grammy®-nominated pianist David Lanz, who contributed piano and lyrics on "Beloved" and "Without You."
Asked about her inspiration, Amarie says "I believe that being a 'Global Citizen' really helps me communicate through cultural barriers. I love to create and perform music in various languages and styles that bring in flavors from other countries and cultures. This album reflects my journey thus far, but I look forward to continuing to evolve in my new music, too."
Early reviews of the album and its accompanying videos have been highly positive, with loose comparisons to Enya and Sarah Brightman, and five music writers to date awarding it a five-star rating. This includes Dana Wright of MuzikReviews, who added Amarie to her "list of favorite things" and wrote, "Kristin Amarie is a skilled musician and her voice will leave you wondering if an angel might be missing from heaven after all. Filled with love and light, her music left me breathless….Vanilla cupcakes, hot cocoa and the smell of lavender…these are some of my favorite things and this album has just made the list as well. I think we will be seeing much more of this inspiring new artist. She is indeed a force of nature rising up to starry skies."
Between now and the holidays, Amarie and Lanz are holding two more House Concerts, with one of them being a Christmas concert; tickets are available exclusively at http://www.davidlanz.com/dechouseconcert.html.
Regarding their collaboration, Amarie says, "I had never seriously created my own music until I met David. My album is in many ways all thanks to his influence on me as a person and a musician. One of my first songs was written for David and says something about how I felt while being apart from him ('Without You')."
Lanz is clearly enthusiastic about his new love and the musical partner he has found in Amarie, proclaiming, "It is time for the world to discover this compellingly beautiful and exciting new voice! Open your hearts and ears for Kristin Amarie...a rising star!"
Notes from a Journey offers ten songs, and is available both digitally and as a beautiful digipak, colorfully designed by Stephen Jensen (F3 Studios) with photographs by Andrzej Liguz. It is available on Amazon, iTunes and CDBaby. Radio promotion is underway with Ed Bonk at LAZZ Promotions. Amarie is an ASCAP artist; her official website with audio clips, videos and images can be experienced at http://www.amariemusic.com.
Notes from a Journey can be purchased directly from Amarie's website, or via these online stores:
Amazon: http://amzn.com/B00FM5ICBC
CDBaby: http://www.cdbaby.com/cd/kristinamarie7
iTunes: https://itunes.apple.com/us/album/notes-from-a-journey/id719309090
For more information, review copies or interview requests, please contact Beth Ann Hilton at The B Company, bethhilton(at)TheBCompany(dot)com.