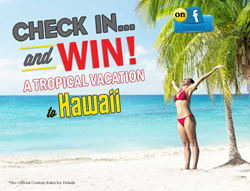 This contest has two prizes, a chance to win a trip to stunning Honolulu and it will entice the gym members to continue to visit the gym and work on their fitness goals.
Amarillo, TX (PRWEB) May 22, 2014
Gold's Gym Amarillo located on Blackburn Street and Gold's Gym Amarillo in Puckett Plaza, are very excited to announce the beginning of a check-in and win contest. The Amarillo fitness centers, in conjunction with gyms from 13 other states, are running a one-of-a-kind contest where gym members will have the chance win a trip to the exotic Hawaiian Island of Oahu.
The contest is very simple. When a gym member visits the gym to workout, they simply check-in on Facebook a minimum of 35 times. Each member will need to complete the number of check-ins in a 90-day period or by July 24th to be eligible to win. The contest has two prizes: First, a chance to win a trip to stunning Hawaii. Second, the contest will encourage gym members to continue to visit the gym and work on achieving total health and fitness, which is the ultimate prize. Each time a gym goer visits the gym for a group class, cardio training or strength training, that member will check-in and be one step closer to visiting Hawaii and achieving their fitness goal.
Hawaii boasts some of the best sight-seeing in the world. For the more adventurous, make sure to get some exhilarating zip lining in. Or try hiking up Diamond Head, a gorgeous volcano hiking trail. Don't forget about the great surf and sun that Hawaii has to offer. If you love to hit the beach, make sure to see Waikiki Beach where one can enjoy some great surf or paddle boarding. For a hidden gem, visit Kapahulu, a great little restaurant, is where the locals eat, featuring an eclectic menu of foods from Hawaiian plate lunches to gourmet burgers, so one knows it's good. To see Hawaii's finest collection of art, visit the Honolulu Museum of Art. The most popular stretch of white, sandy beach on Oahu's windward side is wide and inviting, with several small offshore islands perfect for exploring on kayaks is Kailua. It is the beach people go to Hawaii for—and the reason why many never leave. The waves are gentle and forgiving, and the beach is within walking distance of small convenience stores and friendly eateries.
"We believe a prize of this magnitude and value makes this contest a first of its kind anywhere," says Bill Konstand, President of TAG Business Strategies, the company which is sponsoring the contest. TAG plans to run similar contests for all of our participating Gold's Gym locations every year with new and unbelievable prizes that each gym member will have an opportunity to win.
For more information about the Amarillo Gold's Gyms, Check-in and Win contest, or to take advantage of a free seven-day VIP pass, please visit the webpages for Gold's Gym Amarillo on Blackburn Street at http://www.goldsgym.com/amarillotx/contact/ and Gold's Gym in Puckett Plaza at http://www.goldsgym.com/amarillopuckettplazatx/contact/.
About Gold's Gym:
Since 1965 Gold's Gym has been helping people around the world find their inner strength. From the time Joe Gold opened the first Gold's Gym, a tradition of commitment, passion and dedication was born and is still alive today. At each Gold's Gym, members will find world class amenities, experienced personal trainers and the most diverse group exercise classes around.
To learn more about TAG Business Strategies and the solutions the company can offer, visit http://www.TAGBusinessStrategies.com.