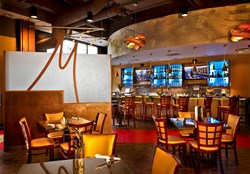 The beauty of what I do is that I get to take someone's idea from concept to completion. I have been involved in some projects before the plans were even drawn, and can provide exactly what the customer wants and needs. - Maris Bernard
Cincinnati, OH (PRWEB) October 10, 2013
A. Maris Design, owned by A. Maris Bernard, has worked with all types of clients, from homeowners to presidents of major corporations. She has designed everything from outdoor entertaining spaces to exclusive high-end restaurants to family-friendly living areas. She recently worked with Liz Rogers, owner of Mahogany at the Banks, the first restaurant owned by an African-American woman in the Cincinnati Banks project.
What makes Maris so unique is her innate ability to see the idea of the project's owner or developer, translate that idea into substance, and create the completed vision that was once only a conception.
"Maris is a very talented professional," said Mahogany's owner, Liz Rogers. "She is truly a visionary who not only thinks outside the box, but isn't afraid of pushing the envelope when it comes to color, style, or designs. With her help, we were able to do extraordinary things in our restaurant."
Maris has made the rounds in the interior design world. Starting with individual homeowners on small projects, moving to market-rate apartment complexes, senior living and condominiums owned by The Miller Valentine Group, and on to other major projects, like Mahogany at the Banks. Maris has won numerous awards for her exceptional designs for both residential and commercial projects.
"The beauty of what I do," Maris said, "is that I get to take someone's idea from concept to completion. I can, and have, worked with the architect, then the developer, the contractors and the owners. I have been involved in some projects before the plans were ever drawn, just to be able to provide exactly what the end-customer will want and need."
A.Maris enjoys the commercial projects, while keeping her fingers in the occasional residential job. Her knowledge of both branches of interior design come together and allow her to really use her creativity to project the ultimate image that was pre-conceived by the owner.
"I loved the way Maris was able to capture the look and feel of what I envisioned for Mahogany," Liz Rogers said. "I will definitely use her for other projects down the road."
When Maris begins working with a new client, part of their initial time spent together is just on brainstorming. Then Maris takes those rough ideas, creates pencil sketches, adds color, texture and lines, and brings back the idea to make sure it is what the customer was thinking. By providing a pencil drawing, she is able to convey to the customer her ability to change things according to their desires. Her flexibility has been a major advantage when it comes to working with project owners.
"The owner, the contractor, and the developer may not have the same objectives and goals," Maris said, "but by working with each, I am always able to craft a solution that meets the expectations, the design intent, and the financial viability of the project and the stakeholders."
A.Maris Bernard has been in the interior design business for more than 30 years and currently works as A.Maris Design. Her studio is located in the East Walnut Hills area in Cincinnati. She provides personalized service to all her clients and specializes in working on turn-key projects of all sizes. For more information on A.Maris Design, visit her web page at http://www.AMarisDesign.com.
Patricia Stirnkorb
Write Words Media, LLC
3533 Danbury Road
Fairfield, OH 45014