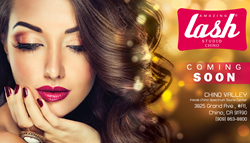 The eyelash extension craze has reached new heights. Long, luscious lashes are everywhere you look these days, from the pages of glossy fashion magazine, to the red carpet, to reality TV stars have inspired millions of other women to do the same.
Chino, CA (PRWEB) October 28, 2015
Amazing Lash Studio is bringing its proprietary eyelash extension technology to the Chino Valley this fall. Doors open to the public on Nov. 13 at 3825 Ste. #A1 Grand Avenue in Chino with a Grand Opening celebration to take place on Nov. 20. The event will feature refreshments and appetizers catered by area restaurants, live music, giveaways and discount coupons for 20 percent off lash extensions. Chamber of Commerce members will assist with an official ribbon cutting ceremony, and local businesswomen will get complimentary lash enhancement applications.
During a special two-week training from Nov. 2 through Nov. 12, Amazing Lash Studio Chino Valley is offering complimentary eyelash extensions in exchange for charitable donations of $20 or more to the One Body Village Organization. This is an opportunity for community members to sample the services at the new Chino Valley location and for the staff to raise awareness for the cause. Space is limited, and appointments can be scheduled by phone at (909) 863-8800.
Eyelash extensions have enjoyed a steady rise in popularity over the past few years because they offer a long-term alternative to daily application of mascara or false eyelashes. The Amazing Lash Studio lash stylist applies individual synthetic strands to a client's existing eyelashes with a specially formulated, pharmaceutical-grade adhesive to enhance their length and thickness. According to amazinglashstudio.com, a typical application lasts from 4-8 weeks, and interim touch-ups are available.
Founded in 2010, Amazing Lash Studio currently has 58 locations across 10 states. To date it has awarded an additional 154 franchises throughout 20 states. This phenomenal rate of growth of this beauty franchise is largely due to its high standards for customer service, quality and professionalism. With a patented process for eyelash extension application in state-of-the-art studios, Amazing Lash Studio is an industry leader. The new Chino Valley staff cordially invites members of the community to drop by and enjoy the soft opening and Grand Opening festivities.
One Body Village is a non-profit organization established in 2008. Its mission is fighting sexual exploitation and trafficking of vulnerable children in Southeast Asia. With assistance from the donations of caring people worldwide, One Body Village helps fund shelter, healthcare, education, and vocational training for affected youth in Cambodia, Laos, Vietnam, Malaysia and Singapore, empowering them to create a better future for themselves and their communities.
####
For further information, please contact:
Amazing Lash Studio
(909) 863-8800
3825 Grand Avenue, Suite A1
Chino, CA 91709
http://www.amazinglashstudio.com/location/Chino-Valley