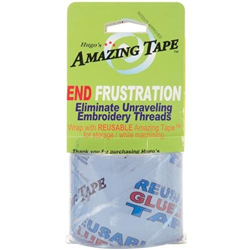 Issaquah, WA (PRWEB) July 07, 2014
TheHardwareCity.com now offers their customers the patented non-adhesive tape product, Amazing Tape. Shoppers get to experience a price savings and free shipping through the convenient online hardware store.
Amazing Tape is a strong and versatile wrap that possesses self-adhesive properties. It is made with a high tensile strength polyvinyl chloride strip. The wrap holds tighter and is stronger than duct tape and can be used over and over again. It provides a clean and clear finish without the use of glues or adhesives. Binding to itself only, it will keep items free of sticky residue. To use the wrap, the consumer simply stretches and presses it around an object and back onto itself. It can be repositioned while being applied without ruining the tape or the object. Once the application is no longer needed, the tape can be easily removed, washed, and reused in another application. The innovative wrap can also protect items from corrosion and UV damage.
There is a wide range of uses for the wrap, from traditional sealing to binding. It can be used to repair numerous items throughout the house and yard including temporary plumbing repair, air vent repair, temporary AC hose repair, automotive and RV repair, and boat repair. Instead of calling an appliance repair technician, users can repair many household appliances with Amazing Tape, including dishwasher hoses, dryer vents, washing machine drain hoses, vacuum cleaner hoses, garden hoses, etc.
Amazing Tape can be used to provide organization in the garage, office, or craft room. Pots and lids can be taped together to reduce clutter in cabinets. Documents and files can be bundled together with the tape without leaving indentations commonly caused by binder clips or rubber bands. Wires or cords can be bundled together safely and effectively to keep computer desks organized. Craft tools can be combined and protected with the new product. Thread and yarn can be protected and kept from unraveling between uses. The suggested uses list goes on and on.
About TheHardwareCity.com:
TheHardwareCity.com continually enhances the company catalog with intriguing and useful home improvement products. Shoppers have access to every hardware department all through one convenient website. While shopping from the home or office, consumers can have needed or wanted items shipped directly to them for free. Representatives are available through live online chat to discuss any product. To view the store's large inventory, visit http://www.thehardwarecity.com/.