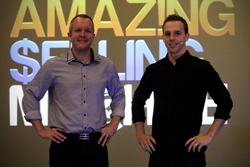 Amazing Selling Machine is for entrepreneurs looking to start a real business on Amazon or scale a current one
(PRWEB) April 13, 2015
On Monday, April 13th, 2015, at 9:00 am Eastern, Matt Clark and Jason Katzenback are launching the fifth edition of their infamous program Amazing Selling Machine (ASM).
Promising the new edition will be better than ever, Matt and Jason are releasing a four-part free video series as an introductory part of the program. The first video of this series goes live today.
"ASM is for any person who wants to start a business of selling physical products on Amazon. It is also for established businesses owners who want to increase their profitability, for all entrepreneurs with information products who wants to conquer the physical merchandise world, and for any one who wants freedom in life by quitting the 9-5 job, and start a real business," says Matt Clark.
For people who have never heard about ASM, the program has four major components:
1- The 8-week web class that is the core training of the program that teach all aspects of selling on Amazon, starting from scratch till scaling business to a multi-million dollar brand.
2- Software tools; more than seven tools aiming at promoting the product being sold by the ASM member.
3- The community; this is the group of previous and current members who share together secrets they have discovered along their journey. Not only that, but they help each other by solving other members' problems, and giving advices to improve their businesses.
4- The team; this team consists of ASM mentors who are highly successful earlier ASM members who were hired by the company to help members by offering one-on-one help.
The first video of the free series explains in details how people can choose a good product to sell on Amazon. People interested in knowing this new tactic can watch the video here.
On the other hand, ElSayed ElAssal of Amazingreviewbonus.com has announced that he is preparing a real review of the program, as he is an ASM member. He also announced an upcoming improved bonus package to help members get better results. People looking for the review and bonus of Amazing Selling Machine can click here.