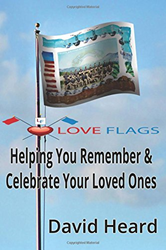 Irvine, CA (PRWEB) October 21, 2014
David Heard, author of "Love Flags: Helping You Remember & Celebrate Your Loved Ones" is offering a discount for a limited time, on his new book, exlusively on Amazon.com. This book was written by the owner and creator of Love Flags, in order to help mourning families cherish the memories of their family and friends who have passed on.
David Heard is a legacy expert whose mission in life is to help grieving individuals through a difficult time by helping them remember and treasure the memories that will last a lifetime with a customized Love Flag. David Heard states, "My Love Flags company is a culmination of the things that I love the most and could spend every day doing. I love photography, family, friends, caring, sharing and giving back to the community. My company is my passion. It allows me to create, provide and share a movement towards preserving and protecting family legacy and heritage. It also helps families to have a deeper, stronger connection for generations to come."
Love Flags makes it possible for family members, living or passed on, to remain strongly connected for generations to come. Love Flags provides family legacy protection and restoration services and has a "family support system" in place to make the creation of the flag that much easier when the time comes. Love Flags works closely with families to create custom "memorial" flags with pieces of memorabilia that are most important to the families, to create everlasting memories, all in one place. Buy a copy of David Heard's new book Love Flags: Helping You Remember & Celebrate Your Loved Ones" on Amazon.com
About David Heard
David was a U.S. Marine Corps military dependent growing up and served his country by being in the U.S. Air Force for four years. After providing this service he then worked for a major utility company for 33 years and has since retired to pursue his destiny and dream by creating his company, Love Flags. His mission is to assist families and friends of families before, during and after their grieving process, to provide a deeper, stronger connection.
David Heard
Love Flags
LoveFlags.com
David(at)LoveFlags(dot)com
(760) 212-6705