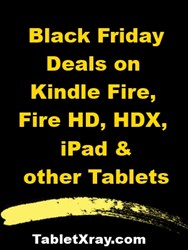 Save up to $60 on an Amazon Kindle Fire HD tablet this Friday
Chicago, IL (PRWEB) November 29, 2013
The holiday shopping season leading to Christmas begins this Friday, November 29th. Given its high popularity and success over the years, everybody is on the lookout for Amazon Kindle Fire Black Friday Deals this year. There will be special deals on non-HD (high definition), HD as well as the latest HDX models this Friday with savings of up to $60. In addition, other popular tablets like the iPad Air, Samsung Galaxy Note, Samsung Galaxy Tab 3 and Google Nexus 7 are also scheduled to go on sale. Some sales went live as early as Monday this week.
Click Here for 8 DEALS on the Kindle Fire HD, Fire HDX and non-HD Tablets
http://TabletXRay.com/Holiday-Deals/ shows 30 different in-store and online holiday tablet deals from six different stores including Best Buy, Staples, Office Depot, Meijer, Toys "R" Us and Target.
When it comes to tablet deals, there are mainly three kinds this year. With one type, the price is slashed. With the 2nd type, there is no price cut, however, a free gift card or pre-paid visa card is offered with the tablet purchase. With 3rd third type, there is a price cut as well as a free gift card. All three generations of the Amazon Kindle Fire, including the newest 7" Fire HDX, will be under at least one type of deal from the above three, this Friday November 29th. The Kindle Fire HD 8.9" deal from Meijer is an example where there is a price cut as well as a coupon. The 8.9 inch Fire HD sells for $229 on Amazon. But Meijer is selling it for $189 bundled with a Free $50 coupon. That's basically like paying $139 for an 8.9" Kindle Fire HD tablet, with total savings of $90.
In addition to 2013 Black Friday Deals on Kindle Fire tablets, top rated tablets like the Apple iPad Air, iPad Mini, Samsung Galaxy Note and Tab 3, Microsoft Surface RT, Google Nexus 7, Toshiba Encore, Asus Iconia etc. will also be on sale this coming Friday, the 29th of November 2013. Some tablet deals may even continue through the weekend up to Cyber Monday.
In addition to Friday's Kindle and iPad Deals, they have also published 7" and 8.9" Kindle Fire HDX reviews as well as Kindle Fire HDX vs iPad mini comparisons that are highly recommended reads for anyone considering buying a tablet computer this 2013 holiday season.