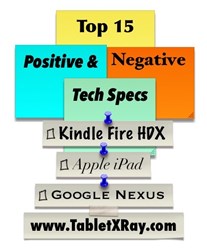 While most specs on the New Amazon Kindle Fire HDX will blow you away, there are a few limitations you need to be aware of.
Chicago, IL (PRWEB) October 03, 2013
The Kindle Fire HDX ranges of tablets are the 3rd generation of Kindle Fire tablets released by Amazon. Both the 7" and 8.9" Amazon Kindle Fire HDX tablets have received major upgrades under the hood with certain specs being improved to provide up to 4-times the performance compared to their 2nd generation predecessors. However, there are still a few limitations that a potential buyer should be aware of, before making a purchase. The recently published Kindle Fire HDX Review is unique in that it covers not only the improvements that everybody is excited about, but also the potential limitations that not many reviewers talk about.
According to the List of TOP 15 Features of the Amazon Kindle Fire HDX, most, if not all hardware specifications on the Fire HDX range surpass specs on other leading tablets such as the Apple iPad and Google Nexus. For example, the Fire HDX tablets' resolution is unparalleled in multiple departments. The 7" and 8.9" tablets have pixel densities of 323 and 339 pixels per inch (ppi), respectively. In contrast, the pixel density of the Apple iPad Mini is only 163ppi and the pixel density of the latest full-sized iPad's retina display is only 264ppi. The pixel density of the Google Nexus 7 is similar to that of the 7 inch Amazon Kindle Fire HDX, however, the pixel density of the Google Nexus 10 is less than that of the 8.9 inch Fire HDX. These high pixel densities make the Kindle HDX resolution greater than standard 1080p HD resolution. In addition, features such as 100% sRGB color accuracy and dynamic image contrast are also unheard of on other tablets.
Other hardware features that received major upgrades include the processor, RAM, graphics core, weight "loss", battery life, cameras, 4G on the 7" version, internal memory etc. The operating system was also upgraded from Android 2.0 to Android 4.2.2 Jelly Bean. The new Fire OS 3.0 "Mojito" operating system introduces many new features such as enterprise support for business users, carousal and grid views, quick switch, printing support, second screen, accessibility features, Xray for songs, song lyrics while playing MP3, downloadable movies etc., again giving the Fire HDX an edge over the others. The revolutionary "live tech support within 15 seconds" offered by Amazon (available 24 x 7, 365 days a year) known as "Mayday" is another highly talked about feature. The complete details of all these features are available on the Amazon Kindle Fire HDX Review on http://TabletXRay.com/Amazon-Kindle-Fire-HDX-Review/.
However, as the Fire HDX review emphasizes on http://TabletXRay.com/Kindle-Fire-HDX-Limitations/, the 3rd generation Kindle Fire HDX has these 5 Limitations. These will be of minor importance to some Kindle Fire HDX buyers, while they may pose a significant setback to others. This is why it is important to be aware of these potential limitations prior to purchasing a tablet.
Considering that the Kindle Fire HDX Review on http://TabletXRay.com/ addresses both Pros and Cons of the latest Kindle Fire tablets while comparing them to the Apple iPad and Google Nexus tablets, it is a highly recommended read for anyone interested in buying an Android or any other tablet this holiday season.