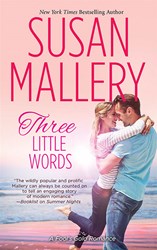 This is the third time this year that one of Mallery's books has been honored as a Best Book of the Month.
Seattle, WA (PRWEB) August 21, 2013
The Editors at Amazon.com have recognized Three Little Words by Seattle author Susan Mallery as a Best Book of the Month in Romance for August 2013. This is the third time this year that one of Mallery's books has been honored as a Best Book of the Month. Three Sisters was named to the list in April, and Two of a Kind was named in July. Three Sisters was further honored in June on Amazon's Best Books of the Year (So Far) list in the romance novel category.
"I'm very gratified by the recognition my books are receiving this year," Mallery says. "Not just by the editors at Amazon – which I appreciate more than I can say – but also by readers. Three Little Words has received more than 440 customer reviews on Amazon, with an average of 4.8 out of 5 stars."
Three Little Words has also appeared prominently on many bestsellers lists. The novel, part of Mallery's Fool's Gold series of romances, debuted at #2* (*statistically tied for #1) on the New York Times bestseller list for mass market paperbacks. It was #4 on the USA Today list of best selling books, #4 on the New York Times list for bestselling ebooks, #3 on the Publishers Weekly bestsellers list and #4 in the Wall Street Journal. Earlier this summer, both Just One Kiss and Two of a Kind also debuted in the Top Ten on the New York Times list. In fact, ten of the twelve Fool's Gold paperbacks have debuted in the Top Ten.
Three Little Words is about a Navy SEAL who returns to his California hometown to run an elite defense academy, training bodyguards. His mother is determined to find him a wife, despite his protests that he enjoys being single. In order to preserve his bachelorhood without hurting his mother's feelings, he asks the girl next door to pose as his girlfriend for a few weeks, and then pretend to break his heart.
"I owe everything to my enthusiastic readers," Mallery adds. "They rush to the stores to buy my books as soon as they're released. And they tell their friends about them. My success has been built by word-of-mouth, and it means the world to me."
To read free excerpts of the Fool's Gold romances and of Mallery's other books, visit http://www.susanmallery.com/excerpts.php/.
About Susan Mallery:
With more than 25 million books sold worldwide, New York Times bestselling author Susan Mallery is known for creating characters who feel as real as the folks next door, and for putting them into emotional, often funny situations readers recognize from their own lives. Susan's books have made Booklist's Top 10 Romances list in four out of five consecutive years. RT Book Reviews says, "When it comes to heartfelt contemporary romance, Mallery is in a class by herself." With her popular, ongoing Fool's Gold series, Susan has reached new heights on the bestsellers lists and has won the hearts of countless new fans.
Susan grew up in southern California, moved so many times that her friends stopped writing her address in pen, and now has settled in Seattle with her husband and the most delightfully spoiled little dog who ever lived. Visit Susan online at http://www.SusanMallery.com/.