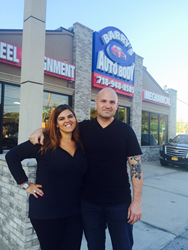 "If by accident we should meet..."
Staten Island, New York (PRWEB) September 28, 2017
Barry's Auto Body is showing our appreciation for our amazing customers in Staten Island with an exciting new contest that could put a brand new Amazon Echo Dot in your home.
Just think of the convenience this high-tech, hands-free, voice-controlled Echo Dot could add to your daily household routine. Simply cue the voice of Alexa to play music, control smart devices, make calls, send and receive messages, read the news, set alarms, read audiobooks, control Amazon Video on Fire, all while you enjoy the company of your family and friends, or just chill in your easy chair after a hard day.
Barry's Auto Body Shop in Staten Island is giving away not one, but five Amazon Echo Dots for free. All you have to do to enter the online Sweepstakes is like our Facebook page.
To enter, go to Barrysautobody.com and click on the "Enter the Amazon Echo Giveaway" link posted under the video, then click on the link to "like" our Facebook page and unlock the entry submission. Fill out the simple entry form, click "Submit," and you will be entered to win a brand new Amazon Echo Dot, plus you will be added to our email list to receive the best deals Staten Island's finest and most reputable auto body shop has to offer.
Barry's Auto Body Shop's Sweepstakes is open to those who sign up on our online page and have a valid U.S. driver's license. Entries are being accepted online now through Dec. 31, 2017. All entries must be received no later than December 31st at 11:59 p.m. EST.
Winners will be selected in a random drawing. Five winners will be announced Jan. 1, 2018, at Barry's Auto Body, 4301 Amboy Road in Staten Island, and all winners will be notified by email. Winners will have 15 days to claim their Amazon Echo Dot. Failure to claim the prize within 15 days from the time of award-notification will forfeit their prize and an alternate winner will be selected.
Visit our website at Barrysautobody.com and sign up now to win a free Echo Dot. And thank you for being loyal customers at Staten Island's most reputable auto body shop. It is our pleasure to serve you, Staten Island, with all of your auto repair needs.