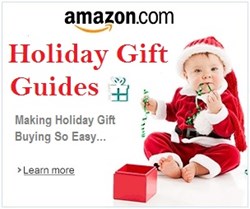 Quickly find great holiday gift ideas with these handy and very convenient Amazon Gift Guides.
(PRWEB) November 12, 2013
As part of its online Corporate Business Gifts Guide, Bizwaremagic.com has recently created a convenient page listing many of the different Amazon Gift Guides available to the online shopper. While Amazon has become one of the top online retailers, many shoppers might not be aware Amazon has also created many helpful guides surrounding major gift giving holidays like Christmas, Hanukkah, Birthdays, Weddings and many more.
In addition, Amazon has created Gift buying guides pertaining to certain hobbies or special interests. For example, if one were looking for a sports gift - there are special guides on golf, cycling and even snowboarding. If one is looking for the latest electronic products, then there are also gift guides for the gadget lover in all of us. Plus, if one is searching for a gift within a certain price limitation, there are guides for gifts under $50, gifts under $100 and so on.
Savvy online shoppers also know Amazon creates special guides/webpages dealing with all the latest bargains and discount coupons for special shopping events such as Black Friday and Cyber Monday. They also know using Amazon to buy gifts can be a fast, safe and easy way to shop online. In many cases, Amazon also offers free shipping, but one should check the official Amazon site for all terms and conditions on any purchase.
This last point is especially important to Bizwaremagic as the site and its Corporate Business Gift Guide, strives not only to find the best online discounts and bargains for its many subscribers and patrons, but also tries to use dependable major retailers like Amazon. Mainly because while finding the cheapest price may be a priority for many shoppers and companies, choosing a retailer with proven support and reliability is a much more important consideration when purchasing anything online.
Lastly, finding a special gift for an important corporate client or a picky family member, can be a daunting chore for even the most patient amongst us - especially during the upcoming hectic holiday season. Therefore, using any of Amazon's many Holiday Gift Guides can be a great solution for quickly finding particular gift ideas for anyone on your list. These Amazon Guides may just prove to be the best starting point for the holiday shopper.
Our special Amazon Gift Guide Page Can be found here: http://www.bizwaremagic.com/amazon_gift_guides.htm Bizwaremagic.com is an 11 year old online business and marketing website, which offers many free guides to its visitors. During the holiday season, a special emphasis is placed on supplying its subscribers and patrons, with the best online discounts and bargains. You can follow/like Bizwaremagic on Facebook, go here: http://www.bizwaremagic.org.