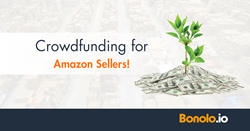 "I went from broke to $50k per month when I was an Amazon seller early 2015" said the Co-founder of the company.
San Francisco, CA (PRWEB) May 10, 2016
A new company, Bonolo.io, is offering its clients a new and evolved user experience along with the scalability to grow and manage their Amazon FBA business. The announcement was made during a recent event, which was hosted by the Co-founder, Will Moffett.
"With the services of Bonolo.io, investors now have the opportunity to make investments in highly profitable physical product business's. It is no secret that Amazon FBA sellers generates lots of money per month, now investors have got a chance to get their piece of the pie," said the Co-founder of the company.
The great thing about Bonolo is that it makes it incredibly easy for investors to invest in million dollar Amazon businesses and receive between 10%-20% of returns on their investment in seller's inventory. Although all investments are made in 60-day intervals, the investors themselves get paid a bi-weekly principle plus profit until the full balance is completed on the last day, while the seller can pay off early.
He further stated, "Through our services, investors can also view their sales history and data in order to measure the strength of the Amazon seller they want to invest in. Investing in Amazon products is fast becoming one of the hottest business opportunities around. And with us, you get the opportunity to make sure that you are able to make the most of your investments whenever you invest in one of the many Amazon products. Furthermore, with our service you can also enjoy fast and secure payments regardless of location, 24/7 customer support, and the exciting opportunity to invest in some of your favorite products that are listed on Amazon."
"For the Amazon sellers, we offer a more streamlined service, allowing sellers to scale their Amazon business without having to spend extra money on shipping or inventory. We value scalability, an Amazon seller must quickly and easily sell products on Amazon, respond to customer messages and manage orders and inventory. All Amazon sellers, investors and transactions are managed by our smart inventory crowdfunding platform. Bonolo.io is the answer for all those who want to receive high margin returns." He concluded.
About Bonolo.io
Bonolo.io was created specifically for the Amazon sellers who require more capital for their inventory. The company has come up with a great solution to help those investors whether they are interested in the physical product market or otherwise, Bonolo.io has the solution you are looking for.
Listen to Will Moffett explain how Bonolo.io works: http://www.stitcher.com/podcast/fba-journey/e/44203108?autoplay=true
Contact Info;
Email: Will(at)Bonolo(dot)io
Phone: 1-800-704-6671
Website: http://www.Bonolo.io