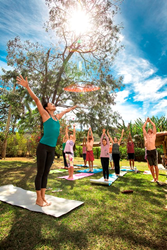 Carlsbad, California (PRWEB) April 09, 2014
PrAna ambassadors Olivia Hsu and Daila Ojeda explored the meaning of selfless service on a recent trip to Brazil where they used climbing and yoga to help build self-confidence and environmental awareness with at-risk youth.
"Our trip to Brazil was amazing," said Daila. "There's nothing like sharing an adventure with a bunch of kids. It was an incredible cultural experience climbing with children in the favelas and meeting people on the other side of the world."
As part of the trip, Olivia and Daila visited Brazil's Centro de Escalada Urbana that is running a grassroots program for at-risk youth in local favelas. There, they not only talked about the benefits of climbing and yoga but more importantly, they got out to do it.
"Yoga is a way to balance out all activities in life including climbing," said Olivia. "People of all ages and backgrounds can hang out and share this great experience. This trip made it possible for us to bring people together and offer our knowledge as professional athletes of the wellness and self-confidence that comes with climbing and yoga."
Daila and Olivia were joined by photographer Bernardo Gimenez. Their climbs included Serra do Cipo and Pan de Azucar in Rio de Janeiro. While there, they also created a short film about their experience. To learn more about Daila, Olivia and all of prAna's ambassadors, please visit prAna.com/life/ambassadors.
About prAna
PrAna is a lifestyle brand that draws its name from the ancient Sanskrit word for breath, life and vitality of the spirit. Born from climbing and yoga, the prAna team creates mindfully-designed, purposeful and stylish apparel for free spirited people to pursue their passions on the water, mat, rock, trail, and street. From its beginning in 1993, prAna has been committed to weaving sustainable practices into its operations and supply chain, working to reduce its impact on soils, water supplies and other natural resources while promoting conservation. PrAna is also conscious of its impact on communities and has worked to include a growing number of fair trade styles every year. It is the first apparel company in North America to offer Fair Trade USA certified products and accessories. PrAna is sold in five flagship stores, online at prana.com, and in 1,400 specialty retailers across the US, Canada, Europe and Asia.
For a list of prAna retailers, please visit http://www.prana.com/dealer-locator.html.
Follow @prAna on Facebook, Twitter and Instagram