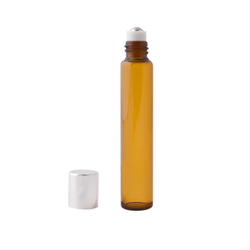 Essential Oil industry has exploded over the last few years and demand for Amber Roll-on bottles is at an all time high, so we needed to make sure these were the highest quality on the market. Mr Kay-CEO
Bergenfield, NJ (PRWEB) February 08, 2016
The Essential Oil Industry has made the Amber Roll-on Bottle industry take notice with an increase in sales and the future looks bright since essential oils are in great demand due to its healing properties. This trend will increase for the next ten years.
"Essential Oil industry has exploded over the last few years and demand for Amber Roll-on bottles is at an all time high, so we needed to make sure these were the highest quality on the market." Said Mr. Kay-CEO with over 35 years experience." Our research and development team took over 2 years to make sure the quality was Grade A+.
The Amber Glass Roll-on bottles are available in 10ml and 15ml, with different thickness and height.
It is very important to find the best quality bottles in the market since there are a lot of inferior glass bottles on the market which can make the process of filling and selling a nightmare.
In addition to Amber Roll-on Glass Bottles, Scentsational Shoppe offers a wide arrangements of glass bottles for the perfume and essential oil industry.
Scentsational Shoppe has also earned a reputation for its extensive selection of Grade A perfume oils, ranging from single note oils to designer types.
Scentsational Shoppe is located at 22 South Washington Avenue, Bergenfield NJ 07621.
More information about the company's full inventory is available at http://www.perfumeoils.com .