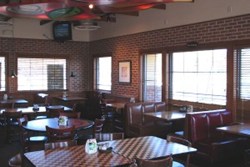 We are very excited to further bring this new method of wall building into the mainstream.
Warren, MI (PRWEB) August 11, 2013
Ambrico, leading provider of brick veneer products, has announced that Thin Brick samples and estimates can now be attained at Ambrico.com.
Brad Sorock, spokesman for Ambrico, said: "Thin Brick is a lightweight masonry veneer for exterior walls of both private and commercial buildings. It gives the appearance of traditional brick, but is less environmentally impactful and much more affordable. Thin Brick is typically a combination of clay, gravel, cement, and sometimes recycled materials. We are very excited to further bring this new method of wall building into the mainstream."
Additional benefits of Thin Brick includes its self-supporting nature – it will not add any extra load or jeopardize the structural integrity of the building, and can be implemented after the rest of the building has already been erected. Although Thin Brick cannot bear much load, its flexibility and ease of implementation is great for modern builders.
Ambrico's product line includes Thin Brick and brick veneer products that are designed for use in kind of construction application. The company's portfolio includes renovations on schools, hospitals and sports arenas that use the thin brick and EZ-Wall System. The thin brick that Ambrico sells is easy to install with the EZ Wall Thin Brick Installation System. Depending on the magnitude of the job, most small projects can be completed in a matter of hours or just a few days. It's a simple, affordable solution for renovating a space or adding the finishing touches to a new construction project, and due to Ambrico's latest partnership, it's even easier to get the best brick products for the job.
About Ambrico:
Based in Warren, MI, Ambrico includes a manufacturing facility, a showroom, and their own brickyard. The company offers free quotes and information for contractors, builders, and owners interested in learning more about brick veneer installation. Ambrico also keeps a large selection of brick veneer samples to view in the state-of-the–art Ambrico showroom. For more information, please visit Ambrico.com.