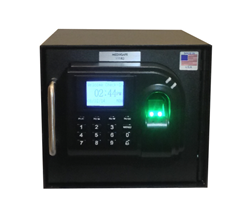 The new site survey helps ambulance and EMT administrators evaluate system requirements
(PRWEB) October 31, 2014
Memphis, TN: MedixSafe continues to lead the narcotics security market; integrating technology to make a great solution the best solution. MedixSafe introduced Wi-Fi in July 2012 and it has been very popular addition to their line of high tech narcotics cabinets. The new site survey helps ambulance and EMT administrators evaluate system requirements and network weaknesses before installation. The site survey can be found on the MedixSafe support page.
MedixSafe Wi-Fi promotes the power and efficiency of remote network administration, enforcing authorized access and tracing access for unprecedented accountability. The Wi-Fi is highly configurable and supports the widest range of security protocols making integration a snap. Supporting; WPA, WPA2, WPA2 Enterprise, and the widest range of certificate management support on the market.
MedixSafe is the manufacturer of high tech ambulance narcotics lockers and cabinets. MedixSafe set a new standard for narcotics security in 2009 when they introduced the ambulance trade's first dual access security solution - the M1 Narcotics Cabinet. The M1 incorporates both proximity card readers and PIN pads. The M2 Narcotics Cabinet incorporates both fingerprint scanners and PIN pads, allowing for the highest degree of individual accountability and automated record keeping, assuring compliance with new, stricter regulations.
MedixSafe also offers Wi-Fi as an option for the MS series and MX series narcotics lockers. MedixSafe offers six different sizes from small compact narcotics lockers to large high tech pharmacy sized storage cabinets.
Keys and pin numbers are no longer enough to ensure security and accountability for emergency narcotics access. Across the country, controlled substance inventory shrinkage is having a critical impact on patient care, staff integrity, liability, and the bottom line. This has led to regulatory demands for an access audit trail – MedixSafe offers unique, field-tested security technologies to meet those demands.
MedixSafe was created by ESSC, a Memphis-based, electronic security and network cabling company with over 30 years in the security arena. Find them on the Web at .medixsafe.com or toll free 855-MEDIXSAFE.