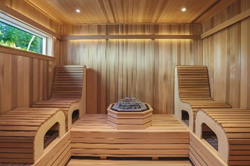 Ted Barker - "Providing saunas for SpaEquip's clients challenges us to couple beautiful design with the best sauna experience available."
Woodinville, WA (PRWEB) October 12, 2015
Amerec, a leader in the steam and sauna industry, and SpaEquip, a premier supplier of spa and skin care equipment, will be displaying custom sauna and steam room solutions at the ISPA Conference & Expo in Las Vegas, October 19-21, 2015.
With many high-end resorts and spas as customers, SpaEquip is recognized for their ability to assist in the design and implementation of beautiful and functional saunas and steam rooms. To make the clients' visions a reality, SpaEquip trusts the design and sales team at Amerec to engineer and design packages that will meet or exceed the expectations of clients with exacting standards.
In the iSPA booth, Amerec and SpaEquip will display custom lounge seating originally designed for the Willow Stream Spa at the Fairmont Kea Lani (photo courtesy of Fairmont Kea Lani). As an example of the custom design features, this installation included ergonomically designed lounge chairs and moveable footrests which doubled as benches. With the platform surrounding the Octa sauna heater, the resulting sauna provides a beautiful, relaxing environment with a sauna bench providing comfortable back and leg support and easy access to the heater for ladling water over the rocks.
Ted Barker, sales manager for Amerec, stated, "Providing saunas for SpaEquip's clients challenges us to couple beautiful design with the best sauna experience available." While some design elements have limited design function beyond a specific custom sauna, innovations like the sauna lounge chair and footrest have become part of the repertoire for Amerec.
To learn more about SpaEquip and Amerec, visit booth 813 or visit their websites. To speak to an Amerec design or sales person, call 800-331-0349.