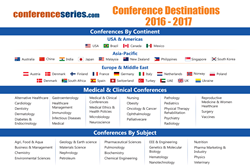 Meet Inspiring Speakers, Experts and Industry Delegates at American ConferencesSeries in all major cities of USA, Canada, Brazil and Mexico
Los Angeles, CA (PRWEB) January 12, 2016
America, being the most developed and leading continents of the world, with the excellent infrastructure and resources for research and B2B networking, is certainly the most desirable destination to organize global events and that is delineated by the latest and innovative discoveries on any given field. OMICS International, the leading international conference organizer and open access publisher alongside its subsidiary, Conferenceseries LLC has chosen America as the ultimate destination for its global conferences, workshops and symposia. It has plans to organize grandeur events across America in general and all major cities of USA in particular, followed by major cities of Brazil, Canada and Mexico throughout the year 2016-17.
In this present era, globalization has led to the explosion in technology, resources and infrastructure. This has indeed helped in augmenting the wealth of the nation, but also became the root cause for rise in pollution, global warming and health issues. This underlines the importance of research, investigation and exploration of all these aspects. Conferenceseries LLC has designed worldwide platforms to discuss, share, interact and collaborate with renowned speakers, experts and industry professionals. International Conferences USA, Brazil, Canada and Mexico will be an excellent and vibrant forum for keynote speakers with interesting and information sessions.
American Conferences invite contributions from the enthusiastic participants to organize international workshops that are both empirical and conceptual in exploring new dimensions of a particular filed of interest. It is open to all types of research methodologies both from academia and industry. Young Researcher Forum, Best poster awards, E-poster, Live Streaming, B2B meetings, Exhibition and Sponsorship opportunities are other significant features of American Conferenceseries. Based on the novelty of the work, quality of research and presentation, Student Scholarship is also offered to young and budding scientists, researchers and students. America will be the most prominent venue for global events of Conferenceseries in 2016-2017, as numerous conferences with diverse research topics are scheduled to be held in different parts of the Continent.
Medical conferences are assemblage of scientists and research professionals in the field of medicine where the latest achievements and upcoming challenges are discussed. These conferences hold information about diseases, medical conditions, tests, symptoms, injuries, and surgeries. It also furnishes information about the history of diseases, and the development of medical technology uses to detect the diseases. These medical conferences are characterized with the presence of renowned scientists, researchers, students as well as business professionals creating an atmosphere conducive for collaborations and scientific associations. These medical conferences have been segregated based on the specific topics for detail and focused discussion. International Conferences on Neuroscience, Ophthalmology, Dentistry, Dermatology, Cardiology, Diabetes and Endocrinology, Pathology, Surgery and Anesthesia, Oncology and Cancer, Radiology, Nursing, Orthopedics, Gastroenterology, Hematology and Immunology, Obesity, Nutrition etc. have been scheduled to be held in America during 2016-17.
Pharmaceutical Conferences are huge research arena which covers the innards of pharmaceutical sciences including Pharmacology, Analytical and Bioanalytical techniques, Biosimilars, BABE Studies, Toxicology, Clinical Research, Clinical pharmacy, Antibiotics, Forensic Research, Medicinal Chemistry & CADD, Pharmacognosy, Phytochemistry & Natural Products, Pharmaceutical Regulatory Affairs, Novel Drug Delivery Systems, GMP, GCP & QC. With these international events, leading pharmaceutical companies, representatives and decision makers of different sectors gets an opportunity to showcase their au courant findings, latest experiences and developments. These conferences help global pharmaceutical market to be under one roof for providing better facilities to healthcare community.
Engineering and Technology Conferences: Engineering is nothing but creative application of scientific principles to design structures, machines, apparatus, or manufacturing processes, for individual or collective utilization to forecast their behavior under specific operating conditions. Engineering is a broad discipline that is further divided as several sub-disciplines. These disciplines concern themselves with differing areas of engineering work. Technology sometimes combines with biology, chemistry, economics or environment for better investigation, analysis and application. Engineering and Technology Conferences include diverse fields such as material science, nanotechnology, physics, biotechnology, chemical engineering, EEE, food technology, agriculture, aquaculture, environmental engineering, cloud computing etc.
Business & Management Conferences brings together creative leaders from trade, commerce, industry and governance to discuss and analyze the present market trends, predicting the future market growth, investigating the probable profits and benefits. Besides creating opportunities, they also provide ample scope for networking, business strategies, partnerships, and B2B meetings, offering amazing learning experience for the young business aspirants. Conference Series will be hosting series of global events on Hotel and Business Management, Social Media, SEO & Marketing Strategies, Fostering Human Resilience and Equity Forum during 2016-17.
3000+ Global Events, comprises of 1200+ Symposiums, 1200+Workshops and 600+ Internal Conferences along with 1000+ Collaborations, Conference Series is all set for the year 2016-17 to explore every corner of America.; the hub of research and the global destination of researchers.
Unique features of our american conference series include:
•Networking with experts in the field
•Live streaming of International Conferences
•e-Poster for $49
•Student Travel Grants
•Student Delegate Registration for $99
•Best Poster Competitions and Young Researcher Competitions
•The Career Guidance Workshops to the Graduates, Doctorates and Post-Doctoral Fellows
We provide the right colloquy for speakers to present their work through our International Conferences worldwide. With the help of more than 1200 pre-conference workshops and 1200 symposiums, importing theory and practices, we are aiming to enhance interaction among scientists, academicians, students and the research scholars to explore and strengthen diversified themes during 2016. Internationally renowned speakers would be addressing key topics, unveiling the latest breakthroughs in the field.