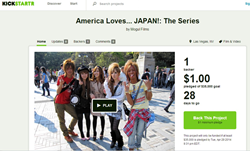 With its Kickstarter campaign now underway, indie film production company Mogul Films is currently accepting video submissions for its "America Loves…JAPAN!" series.
Las Vegas, NV (PRWEB) April 03, 2014
Independent film production company Mogul Films is currently accepting video submissions for its America Loves…JAPAN series and Kickstarter campaign.
To give supporters and fans of all things Japanese the best chance at making the cut, Mogul offers the following three tips on things to definitely NOT do while the camera's rolling.
1. Taking Yourself Too Seriously
"Be yourself--not your idea of what you think somebody else's idea of yourself should be."
~Henry David Thoreau
It's true. For our upcoming 16-part series "America Loves…JAPAN!" we're looking for videos with personality that are genuine, clever and passionate.
It's not a school project.
It's not a video interview.
And it's not a documentary.
So give us something we can feel! Be creative and push the limits. Nothing is out of bounds.
2. Taping Exclusively at Home
When it comes to great video, 'show' is always more powerful than 'tell.' Getting out into public settings and capturing footage in spaces that encompass your passion can make all the difference! The world—or at least your community—is your oyster. Love Japanese food? Head to your favorite Izakaya or sushi spot to bring it to life. Into the music? Break out your camera phone during a karaoke night (get permission, please!) Remember: natural sound and unscripted images/ people can make or break a submission. Resist shooting your piece from a webcam at a desk and hit the road!
3. Submitting a Video on Things…Un-Japanese
We hate to have to 'go here' but let's face it. Americans can sometimes be guilty of grouping all things Asian into an 'umbrella' category—and that's all bad. Japan is a nation of rich and distinctive identity. Sure, it shares some commonalities with other Asian countries, but its one-of-a-kind flavor, traditions and culture are undeniable. We're mentioning this just so you're aware that submitting a video on your love for kung fu, Kimchi or Bubble Tea means automatic disqualification. Duh. Sorry not sorry. #americalovesJapan
For more information on Mogul's "America Loves…JAPAN!" project and Kickstarter, check out https://www.kickstarter.com/projects/477716387/america-loves-japan-the-series. Also, stop by the Mogul Vlog between now and April 29 to meet founder Darron Morris in the new animation series for the series fundraiser campaign.
About Mogul Films:
Independent motion picture production company Mogul Films was founded in 1998 as Vision Filmworks in Los Angeles California by founder Darron Morris.
The company's first production was the feature, 'Sweating the Small Stuff,' starring Kathleen Luong (Two Day in the Valley) and Darron Morris, with a cameo from Walter Jones (Mighty Morphine Power Rangers). The movie was filmed in January 1999 in 16mm, in just one week. 'Sweating the Small Stuff' was shot for $1,000 and filmed in the Los Angeles-area (permit-free).