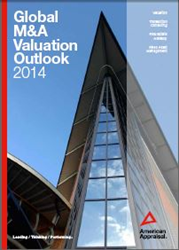 Valuations surge as dealmakers expect to pay 23% more by 2015
Milwaukee, Wisconsin (PRWEB) June 17, 2014
• EBITDA multiples to hit 11.3x, up 23% on reported 2013 figures

2013 deal volumes hit 14,000, a six-year high
Technology, media and telecom companies worth the most - estimated to reach 11.7x by 2015
The amount buyers expect to pay for companies will reach 11.3x EBITDA by 2015, a jump of 23% compared with reported 2013 figures. This comes amidst improving macroeconomic conditions in the United States and Europe, maintained performance in China, improved debt markets and more available capital by companies and private equity firms alike. This upward trajectory is further evidenced by the number of global deals, which reached 14,000 in 2013, the highest number of M&A transactions since 2007.
Nancy Czaplinski, Managing Director at American Appraisal, commented:
"There is a lot of capital available among both PE and corporates. While there has already been a pickup in deal making, there is still room for further growth as many companies that were holding off from acquiring or divesting are only just coming back to the table."
Technology, media and telecom companies saw the biggest rise in M&A, including higher volumes, greater values and increasing multiples (jumping to 9.5x in 2013 and expected to reach a post-crisis peak of 11.7x in 2015). Meanwhile, total deal values in this sector rose from $331bn in 2012 to $511bn in 2013. Other sectors were negatively affected, with aerospace and defense companies hit hard by the US sequester and austerity in Europe.
Richard Rogers, Director at American Appraisal, commented:
"Aerospace and defense firms that have made past acquisitions are looking to support these transactions, but have been very cautious and selective about what they buy."
Following are more report highlights and findings by region:
Asia-Pacific

Economic reforms in China have revitalized M&A and are expected to boost valuations from 11.3x in 2013 to 12.6x in 2015.
Multiples in India fell from 9.1x in 2013 to 8.4x in early 2014 due to economic stagnation and political uncertainty; however, recent election results are expected to boost investor sentiment and lead to rising multiples in the second half of 2014.
Japanese buyers turn more to developed countries.
Americas

Although North American deal activity was flat in 2013, economic growth and the availability of debt mean that multiples are expected to increase from 9.0x in 2013 to 10.4x in 2014 and 11.2x in 2015.
Valuations in Latin America show consistent growth.
Europe

Northern and Western Europe are the engine of M&A deals, with valuations expected to reach a five-year high of 10.7x in 2015.
Central and Eastern Europe are expected to heat up in 2014.
Southern Europe has weak economic growth and valuations are expected to fall in 2014 before slightly rebounding in 2015.
These are some of the findings from Global M&A Valuation Outlook 2014, a report published today by global valuation specialists American Appraisal. The wide-reaching report, now in its third year, draws on in-depth analysis of American Appraisal's own data from deals compiled by its staff in 24 countries, combined with industry data on international corporate deal flow and independent interviews conducted with senior executives across the world.
Please get in touch to receive a full copy of the Global M&A Valuation Outlook 2014 report or visit American Appraisal.
About American Appraisal
American Appraisal, the world's only truly glocal valuation firm, is a leading valuation and related services firm that provides expertise in all classifications of tangible and intangible assets. It comprises 900 employees operating from major financial cities throughout the Americas, Asia-Pacific, Europe and the Middle East. For more information, visit http://www.american-appraisal.com.