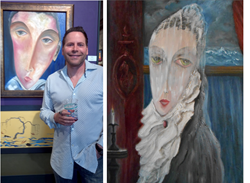 Seattle Artist Gregory Copploe Wins Prestigious Award, 1st Place Out of 18 Countries Competing.
(PRWEB) October 01, 2013
Seattle Artist Gregory Copploe took top honors at this year's American Art Awards, garnering him a first place award in the Expressionism—Human Figure Category. 18 countries around the world competed for this top honor, and the winning painting is titled: "The Tudor"-- 20 x 24 in. oil on canvas depicting life inside the castle walls and highlighting the one individual that lives this life, "The Tudor".
Mr. Copploe has a vast entertainment and artistic background which began with a UCLA Theatre Arts/Fine Arts Degree, and branched into stage, theatre, and eventually oil painting. He began his career as a commercial actor and director, and was featured as a recurring actor on the daytime Soap "Opera Young & The Restless".
As an homage to his father who passed in 2001, he began his journey in oils experimenting with sky, water and the creation of faces in the clouds. He branched out into prolific portraits inspired by Sergey Smirnov and Amedeo Modigliani. As a world traveler, Paris and Spain also plays an important role in influencing Gregory's style and palette as he continues to paint the long faces and noses, pouting lips, and thought-provoking eyes which convey meaning and spirituality on each canvas.
Mr. Copploe has been featured in several prominent art openings and galleries in Los Angeles and Seattle including: the Warren Knapp Gallery, Heart The Gallery, Ok Gallery, and will soon be showcasing some of his work at the esteemed EAFA Gallery inside the Seattle Design Center.
Gregory Copploe is an artist who likes to blend old and new styles together to create a portrait for today, which include elements from centuries past. "I am elated to win such a prestigious award, and am most grateful that 25 national galleries voted for my first place honor. I am blessed that my career continues to flourish, and am humbled with the growth I have experienced in the last year as an oil painter. So blessed to be living the dream." (Gregory Copploe)
About Gregory Copploe
For bio and additional information, please go to http://www.gregorycopploe.artspan.com.
http://www.americanartawards.com
https://www.facebook.com/pages/Gregory-Copploes-Artwork-in-Oil/142734785276