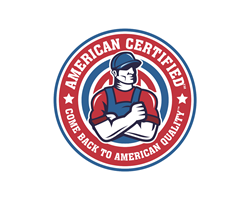 We started American Certified because we love this country and want to help producers connect with customers who share their unique interests and values.
Philadelphia, PA (PRWEB) May 15, 2014
On May 15th, americancertified.com will open its doors, finally making it easy to find the best American made products. American Certified (AC) provides motivated consumers with the information they need when it comes time to vote with their wallets.
In recent years, a trend has emerged; consumers have shown a preference toward 'buying American.' A survey of one thousand statistically selected Americans conducted by AC shows nearly 80 percent of Americans prefer buying American products, with over half of respondents willing to go 'out of their way' to buy American. While nearly 40 percent responded that they are willing to spend more to purchase an equivalent American product.
Serial entrepreneur and inventor, Marvin Weinberger, is launching American Certified to increase consumer awareness while encouraging the resurgence in American manufacturing.
"We started American Certified because we love this country and want to help producers connect with customers who share their unique interests and values," said Weinberger. "This is good for business, good for the consumer and good for America."
As the economy continues to rebound from the Great Recession, the 'made in America' movement has provided much needed stimulation in the American manufacturing industry. Each purchase through AC insures the shopper's dollar stays in the pocket of American workers.
When a consumer spends domestically it directly supports American workers on the factory floor. While indirectly, such spending supports numerous additional workers, ranging from suppliers and distributors, to local service providers.
This indirect benefit is called the "multiplier" effect. Nationwide, according to a 2013 study by University of Illinois at Chicago, each new manufacturing job in the United States creates an additional 4.6 American jobs. The effect can be even more dramatic. For example the multiplier effect for motor vehicle and parts manufacturing is 6.8 additional jobs.
"Motivations may vary why consumers choose to buy American. Some buy American out of patriotism, others prefer the higher American quality and stricter environmental regulations, but virtually all agree on the importance of creating jobs," said Weinberger.
Being an Amazon Associates store, AC shoppers can buy with confidence. Members enjoy a great selection of quality American products with the benefits of Amazon's prices, convenience, speedy shipping, and access to Amazon customer support.
Additionally, AC has implemented unique search features to further personalize the customer's shopping experience. For example, shoppers can limit their purchases to providers in their home state, specify producers with 'green' practices or even select products for which gift-wrapping is available. Shoppers can even limit their selection to goods directly sold and fulfilled by Amazon.
In addition to the e-commerce store, American Certified is building a first of its kind directory of more than 100,000 'makers' (including farmers and manufacturers). The directory membership is free and open to all; participation in the AC store is not required.
Completing the voluntary, but comprehensive, certification provides makers with an official seal certifying the American content of their products. In addition, makers can specify other attributes about their business, including characteristics as varied as whether woman owned, a veteran employer or recognized for green practices. The directory will empower customers to make informed purchases, while at the same time, providing qualified companies with a new channel to directly reach shoppers interested in purchasing their goods.
Finally, American Certified will feature news and blogs depicting thorough analysis and trends related to the most recent happenings in American manufacturing and consumption. Members of the press and AC shoppers can sign up for a free weekly news summary, reporting on the Buy American movement from all sides, without bias.
"It's time to stand up and be counted," says Weinberger. "Visitors to our site can join the 'Buy American' movement and even get a free t-shirt when they create a public profile explaining their personal reasons for buying American."
"For me personally," says Weinberger, "America is a 'light unto the nations' by buying American we strengthen the foundation for this beacon of human rights and political freedom."