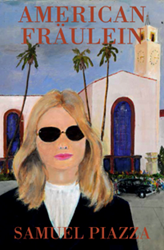 'American Fraulein' will appeal to readers who enjoy a fast-paced spy mystery, one which exposes a cycle of emotions and twists in life.
La Palma, CA (PRWEB) August 13, 2015
Although it rose to power on the wave of hard-hitting propaganda and indoctrination, Nazi Germany eventually had most people wondering how this could have happened. In his new novel 'American Fraulein' author Samuel Piazza unravels the story of a young American woman who effortlessly (and at first, unknowingly) aligns herself with the Nazi Party just as World War II is about to commence. She betrays her country, her family, and herself before she realizes the true motives behind the dark mind of Adolf Hitler.
The protagonist in Piazza's book, Erika Willets, is a recent college graduate from a nice family in Chicago. She joins her father's publishing company, and travels with him to Europe to explore new economic ideas that might benefit the U.S. as it recovers from the Great Depression. While in Germany, Erika meets Friedrich, a handsome young man with whom she falls in love. She also meets Hitler, whom she finds inspirational as he describes his vision for the future. Behind the scenes, German officials are evaluating how the Willetses and their publishing business might hinder—or help— Nazi proliferation.
Piazza develops an intricate storyline that embraces and evokes the full spectrum of emotions as Erika falls in love, suffers through grief, betrays her family and allows herself to step over a line that was blurred from the beginning. The complexity of her life and her ability to reflect on the decisions that led her down this path are examined as the plot progresses. "'American Fraulein' will appeal to readers who enjoy a fast-paced spy mystery," says Piazza, "one which exposes a cycle of emotions and twists in life."
'American Fraulein' travels across the globe from Europe to Chicago to Los Angeles and it shifts gears seamlessly, delivering more than the usual spy novel fare. A well-developed cast of characters (one of whom helps tell an important part of the story), an informative epilogue, and a section at the end of the book that encourages further discussion, complement Piazza's suspenseful, thought-provoking narrative.
'American Fraulein' is published in eBook and paperback format by eBookIt.com and is now available at popular online retailers including Amazon.com, Barnesandnoble.com and Apple's iBookstore.
Review copies of 'American Fraulein' are available to media contacts upon request. Samuel Piazza is available for interviews.
CONTACT:
Samuel Piazza
piazza99(at)ca(dot)rr(dot)com
714-523-4158
About Samuel Piazza
Samuel Piazza is a retired Lieutenant with the Los Angeles Police Department. He served in Bosnia-Herzegovina as a Station Commander for the United Nations International Police Task Force, and is a recipient of the United Nations In Service for Peace medal. He is a former educator at the high school and collegiate levels, and presently occupies a career in business.
About eBookIt.com
Since 2010, eBookIt.com (based in Sudbury, Massachusetts) has helped thousands of authors and publishers get their books converted to ebook format, and distributed to all the major ebook retailers, including Amazon.com, Barnesandnoble.com, Apple iBookstore, Kobo, Sony Readerstore, Ingram Digital, and Google eBookstore.