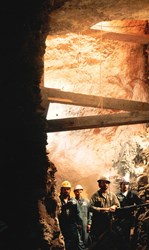 One curious thing to note about this 'legend' is how it makes its way to a congressional hearing regarding Watergate by one of Nixon's aids
Las Cruces, New Mexico (PRWEB) January 31, 2014
The American gold rush still remained a big subject at the turn of the 20th century. In the Western part of the United States, particularly New Mexico, legends of gold caches hidden in the country were not uncommon. No other story is more infamous than that of Victorio Peak ;according to tales and legend, the site was a mining area ran by a Spanish priest called Padre La Rue who refused to give up his gold to the Spanish authorities. Others maintain it can be a hoard of gold from caravan raids done by one of the Nations, some believe it is the gold of Mexican patrons exiled after the Mexican-American war. One story goes as far as to say it is the treasure of the French emperor Maximilian I who was executed in Mexico after his failed tenure as head of state.
John Clarence and Tom Whittle start their take on the Victorio Peak story in the 1930's. This is when Doc Noss allegedly finds the treasure, tries to remove it without violating the Gold Reserve Act, and winds up murdered by his business associates. "From then on," says John Clarence, "the treasure site is taken over as part of the White Sands Missile Range by the Army and later excavated by government officials." According to the Gold House trilogy, using interviews and documents to support the claim, the treasure was taken by high ranking officials in the US government. "One curious thing to note about this 'legend' is how it makes its way to a congressional hearing regarding Watergate by one of Nixon's aids" said John Clarence.
The authors of the Gold House Trilogy contend if it is possible for gold to go unaccounted for in Europe during World War II, the same was possible in the United States given the large surge in gold mining and lawlessness of the West. "What we prove in the Gold House Trilogy is that the treasure existed, beyond a doubt, because it led to so many other events in the 20th century."