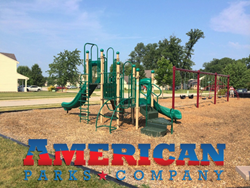 We think the children at Decatur Ridge HOA will be sharing stories about having the best playground in town!
McKinney, Texas (PRWEB) September 29, 2014
Coast to coast home owner associations are making new investments in quality outdoor fitness and recreational opportunities for their communities. The park is the heart of the community and creating a park for families to enjoy is an investment in health and happiness for residents.
The Decatur Ridge HOA in Indianapolis, Indiana purchased a number of commercial playground structures to create a perfect playground for children aged 2-12 years.
The Double Dutch commercial playground structure offers fun and excitement for up to 35 children aged 5-12 years. The Apex Climbing Attachment is a favorite as it simulates real rock wall climbing for children, while the 5'4" Single Speedway Slide offers a fast (but safe) trip to the bottom of the structure. Other activities include a Loop Arch Climber, a Vertical Ring climber and more.
The Decatur Ridge HOA also added a fun Fire Station Climber to give children the opportunity to develop upper body strength and enjoy the exhilaration of climbing with their friends. All four routes lead to the fun Fireman's Pole at the center, and the Fire Station Climber provides great independent play or group fun.
The last piece to the new park installation for residents of Decatur Ridge was a Speedy Spinner. It is a classic piece of playground equipment with modern engineering for added safety, featuring a speed limiter.
We think the children at Decatur Ridge HOA will be sharing stories about having the best playground in town!
===============================================================================
About American Parks Company
American Parks Company is a McKinney Texas based company that provides commercial grade park and playground equipment primarily to municipalities, city parks, schools, churches, daycare facilities, and homeowner associations. Since 2004, American Parks Company has consistently provided high quality play structures at extremely affordable prices.
American Parks Company is an industry leader in both the national sales and installation of commercial playground equipment. For general information on American Parks Company, please call 1-800-381-4491 or visit http://www.AmericanParksCompany.com
For media inquiries contact Marc Parker – Vice President of Marketing sm(at)americanparkscompany.com.
Corporate Address: 225 E. Virginia Street McKinney, Texas 75069.