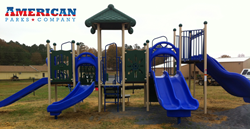 Crane Eater Community Church has inspired creative play and meaningful learning for parents and children.
McKinney, Texas (PRWEB) February 28, 2014
The Crane Eater Community Church in Calhoun Georgia has a very long history of serving its local constituents since 1913. Founded by Rev. E.J. Bohemer and his wife, the Church was officially launched on January 13th, 1914 making this its 100th year of leadership.
The inclusive style of the community services creates a close knit faith based community, and the current leader (Pastor Strickland) is a dynamic and inspirational speaker using evangelical methods to engage his community.
Crane Eater Community Church is following the innovation of other faith based organizations by making an investment in the social and physical well being of the children in their parish. The Church provides both a Sunday School program and nursery that engages children from preschool to high school, but it also runs a successful Awana® Clubs International program.
The parish provides rich learning for its children through a network of volunteers who provided activities and organized outings for families.
The most recent investment in their active community was for the redesign and installation of new commercial playground equipment from American Parks Company (McKinney, TX). The purchase of the Breckenridge model utilized a 29' x 48' space and created a play area for up to forty (40) children ages 2-12 years. The project was completed in January, 2014 and featured a Thunder Slide, Inverted Arch Climber, Rock Climber and a Double Bedway Slide.
By providing families with an engaging and interactive community playground, Crane Eater Community Church has inspired creative play and meaningful learning for parents and children in their local parish. Quality commercial playground equipment and intuitive designs encourage healthy, outdoor play for growing children.
American Parks Company is a McKinney Texas based company that provides commercial grade park and playground equipment primarily to municipalities, city parks, schools, churches, daycare facilities, and homeowner associations.
Since 2004, American Parks Company has consistently provided high quality play structures at extremely affordable prices. American Parks Company is an industry leader in both the national sales and installation of commercial playground equipment.
For general information on American Parks Company, please call 1-800-381-4491 or visit http://www.AmericanParksCompany.com. For media inquires, contact Marc Parker – Vice President of Marketing and Operations – sm(at)americanparkscompany(dot)com.
Corporate Address: 225 E. Virginia Street McKinney, Texas 75069.