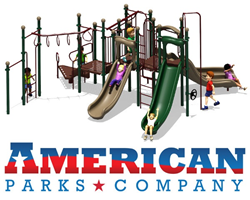 The entire structure is ADA accessible and features a Play Wheel and a Fireman's Pole for imaginative fun!
McKinney, Texas (PRWEB) September 18, 2014
The school days at Thunder are about to get infinitely more fun with the addition of a new commercial playground structure from American Parks Company.
Located in School District 51 of Mesa County Valley Colorado, Thunder Mountain Elementary offers a vibrant community of students and educators. Their website offers a number of links for parents to continue to provide learning supplements at home, with online educational resources.
To keep children occupied with a number of play styles, the impressive commercial playground structure offers 11 unique activities for up to 50 children ages 5-12 years. The Monkey Maze features four slide options and three climbing opportunities, with the Wiggle Wave Climber and the Vertical Access Ladder. Once at the top of the playground structure, children can enjoy safely racing their peers down the 4'8" Double Speedway Slide or the exhilarating 5'4" Single Speedway Slide for maximum velocity.
The entire structure is ADA accessible and features a Play Wheel and a Fireman's Pole for imaginative fun! The 90° Horizontal Loop Ladder helps children work on upper body strength and hand-eye coordination skills.
We know the playground will be a more exciting place with the Monkey Maze installed for the students of Thunder Mountain Elementary.
=======================================================
About American Parks Company
American Parks Company is a McKinney Texas based company that provides commercial grade park and playground equipment primarily to municipalities, city parks, schools, churches, daycare facilities, and homeowner associations. Since 2004, American Parks Company has consistently provided high quality play structures at extremely affordable prices.
American Parks Company is an industry leader in both the national sales and installation of commercial playground equipment. For general information on American Parks Company, please call 1-800-381-4491 or visit http://www.AmericanParksCompany.com
For media inquiries contact Marc Parker – Vice President of Marketing sm(at)americanparkscompany(dot)com.
Corporate Address: 225 E. Virginia Street McKinney, Texas 75069.