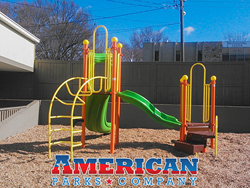 Austin, Texas (PRWEB) January 26, 2015
Commercial playground equipment supplier and installer, American Parks Company, was chosen to assist Smyrna Bilingual Academy in an expansion of outdoor recreation for its students. Creating fun and safe exercise opportunities in academic settings is important to development key skill areas for children, including: social skills, problem solving, and healthy physical development. Quality commercial playground equipment is essential as it provides room to grow, move, and learn outdoors.
Providing fun and safe learning environments is essential to the success of children. Schools like Smyrna Bilingual Academy in Georgia have gone a step further by providing full language immersion to offer an additional advantage for students. The school promotes its creative curriculum as "giving the second gift of language."
The administration at the academy selected the "Adventure Waits" commercial playground bundle from American Parks Company. This turn-key playground solution provides everything an organization needs to install a new playground in a convenient and cost effective bundle. The "Adventure Waits" bundle included the play structure, affordable engineered wood fiber safety surfacing, plastic border timbers, as well as freight and installation services.
The "Adventure Waits" playground structure features five unique and engaging activities for up to 20 children, aged 2 to 12 years old. There's an Apex Climbing Attachment that simulates a rock climbing wall experience with a gentle incline suitable for all ages. It also has a Loop Arch Climber, which gives children the option of an alternative ascent to the top where there's a Curved Speedway Slide providing an exhilarating high speed trip to the bottom. The commercial play structure is ADA accessible for inclusive play.
Now students aged 2 to 12 years in the Smyrna, Georgia area that attend the academy will be able to enjoy the addition of the new playground, and many more recess adventures with friends.
____________________________
About American Parks Company
American Parks Company is a McKinney Texas based company that provides commercial grade park and playground equipment primarily to municipalities, city parks, schools, churches, daycare facilities, and homeowner associations. Since 2004, American Parks Company has consistently provided high quality play structures at extremely affordable prices.
American Parks Company is an industry leader in both the national sales and installation of commercial playground equipment. For general information on American Parks Company, please call 1-800-381-4491 or visit http://www.AmericanParksCompany.com
For media inquiries contact Marc Parker – Vice President of Marketing sm(at)americanparkscompany(dot)com.
Corporate Address: 225 E. Virginia Street, Suite 1, McKinney, Texas 75069.