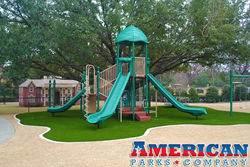 Mr. Ryan called looking for a high-quality, commercial-grade, safe playground for his most precious gifts—his children.
Dallas, Texas (PRWEB) February 25, 2015
In the commercial playground industry, most installations of playground equipment are contracted for organizations and businesses, such as community parks, school playgrounds, daycare centers, churches, or hospitality facilities. The durable quality of commercial-grade playground equipment is ideal for public use, in high traffic areas like parks or recreational centers. The products are designed to meet the rigorous standards of safety oversight committees like the Consumer Product Safety Commission (CPSC) and the American Society for Testing and Materials (ASTM).
However, that does not preclude these commercial play structures from being used in a residential setting. In fact, American Parks Company, a nationwide supplier and installer of commercial playground equipment, was recently selected to furnish a stunning private Dallas home with a selection of high-quality and fun playground equipment at the estate of Brint and Amanda Ryan.
The Ryans have developed their residential property by accentuating the space with outdoor recreational activities for their children. By installing a professional-grade playground at their residence, they've provided their children with safe, life-enriching play activities because the products are designed to the exacting standards of the CPSC and ASTM.
Chuck Wellengberger, Executive Vice President of American Parks Company, noted that "Mr. Ryan called looking for a high-quality, commercial-grade, safe playground for his most precious gifts—his children. It was wonderful to have both he and his wife so involved in the design and installation processes, and it was a great opportunity for us to show our best in a residential setting."
The Ryans selected the "Bigger is Better" play structure as the focal point for their private playground. This large multi-level structure accommodates up to 60 children ages 5 to 12 years-old, which is plenty for their own children and enough to host a large party. The play structure features three high-speed rotationally-molded plastic slides at various heights for different experiences, three challenging climbing activities, a total of thirteen unique play activities in all. It also boasts a Curvy Canopy Roof to provide partial UV protection so the kids can play longer in the Texas sun without worry of over-exposure.
In addition, American Parks Company installed a 1-Bay Single Post Swing Frame (a safety enhanced contemporary swing design), and two independent play activities: the "Speedy Spinner" (a modern merry-go-round), and the "Climb-A-Round." The family selected artificial turf for the safety surfacing material beneath all the playground products in order to create the natural appearance of green grass, but which also provides a durable all-weather outdoor cushioning to help prevent serious injuries.
Most residential playgrounds do not require the type of equipment and design considerations that went into the Ryan estate, but the family wanted to install something a bit more permanent than your typical wooden backyard play structure. They knew that by teaming with American Parks Company, they would add exciting and educational play value for their growing children. All parties involved were very pleased with the result.
About American Parks Company
American Parks Company is a McKinney, Texas based company that provides commercial-grade park and playground equipment primarily to municipalities, city parks, schools, churches, daycare facilities, and homeowner associations. Since 2004, American Parks Company has consistently provided high-quality play structures at extremely affordable prices.
American Parks Company is an industry leader in both the national sales and installation of commercial playground equipment. For general information on American Parks Company, please call 1-800-381-4491 or visit http://www.AmericanParksCompany.com
For media inquiries contact Marc Parker – Vice President of Marketing sm(at)apcbrands(dot)com
Corporate Address: 225 E. Virginia Street McKinney, Texas 75069.