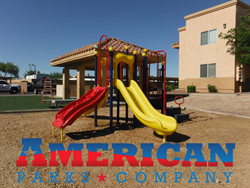 Residential communities like Colores del Sol know the value and importance of providing outdoor recreational play opportunities.
Tucson, AZ (PRWEB) June 23, 2014
For children in the residential community of Colores del Sol, the new commercial playground equipment from American Parks Company will mean hours of fun outside with friends and family.
Communities like Colores del Sol know the value and importance of providing outdoor recreational play opportunities for residents. Playgrounds are essential to all communities, particularly for apartment or high-density urban life where children may not be provided with adequate green space to socialize, exercise, and make new friends.
The management team at Westlake Housing wanted to augment the current fitness amenities provided for residents at Colores del Sol by adding a playground with curb appeal. They chose the Word to the Wise play structure for a variety of engaging activities, as it offers seven (7) unique play opportunities for up to 25 children ages 5-12 years.
Word to the Wise features:

2 Slides
Apex Climber
Overhead Loop Climber
Fireman's Pole, and more!
An investment in outdoor recreation is a wise choice for residential communities, HOA's, and urban environments where parks or playgrounds are limited. It is an investment not only in recreation, but it also betters health, wellness, and cognitive and physical development for children in the community.
--------
About American Parks Company:
American Parks Company is a McKinney Texas-based company that provides commercial grade park and playground equipment primarily to municipalities, city parks, schools, churches, daycare facilities, and homeowner associations. Since 2004, American Parks Company has consistently provided high quality play structures at extremely affordable prices. American Parks Company is an industry leader in both the national sales and installation of commercial playground equipment.
For general information on American Parks Company, please call 1-800-381-4491 or visit http://www.AmericanParksCompany.com.
For media inquiries, contact Marc Parker – Vice President of Marketing – sm(at)americanparkscompany(dot)com.
Corporate Address: 225 E. Virginia Street McKinney, Texas, 75069