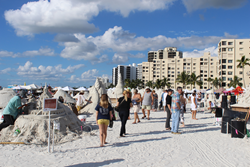 The 28th Annual American Sand Sculpting Championship is returning from November 21 - 30 and will be the largest sand sculpting event in the state.
Fort Myers Beach, FL (PRWEB) July 01, 2014
Get ready to hit the sand. The 28th Annual American Sand Sculpting Championship is coming back to Fort Myers Beach November 21 through 30, 2014 with more sculptures than ever before.
Master sand sculptors will hit Fort Myers Beach forming the largest sand sculpting event in the state with an all new layout. USA Today listed the event as one of the 10 best sand sculpting competitions and the Southeastern Tourism Society recognized the American Sand Sculpting Championship as a top 20 event of the entire southeastern United States.
Big C Events, Pinchers Crab Shack, the Wyndham Garden Hotel on Fort Myers Beach and The Sand Lovers, all of which have been involved in other successful sand sculpting events including the World Championships of Sand Sculpting, will once again manage the event in coordination with the Greater Fort Myers Beach Chamber of Commerce and charity benefactors; Make-A-Wish, Teen Challenge, Kiwanis, and Lover's Key State Park.
Tourists and residents alike will have the rare opportunity to see a collection of some of the world's very best sand sculptors create amazing sand sculptures. Featuring 30 sculptors hailing from several different countries, the singles will compete the first week, followed by the doubles and Advanced Amateur Florida State Championships. Also, at the entry, guests can take photos with the new 70' x 20' sculpted sand art feature to be created by a variety of artists.
Quick Sand Speed Sand Sculpting® will be featured again this year. Along with watching your favorite sculptors compete against each other, there will be Quick Sand Challenges where local personalities and celebrities will be teamed up against each other. Also new is a 5k/10k/ survivor run on the November 29th that will start at Lover's Key and end at the event site; admission to the event is included in the race's registration cost.
Guests are welcome to attend daily or at anytime from November 21st through the 30th. There will be many interactive activities for guests to partake in including:

Make-A-Wish Day – On Friday, November 21st, 20% of ticket sale proceeds being donated to the organization
More than 30 Sand Sculptures – View over 30 sand sculptures, more than 1,000 tons of beach sand will be sculpted, including one huge 350-ton sand sculpture
Quick Sand Speed Sand Sculpting© - Is an audience-participation show in which two sculptors go head-to-head for a ten-minute sculpting competition, sculpting a subject selected by someone in the audience, and the winner of each round advances to championship rounds based on audience applause.
Photo Opportunity Sculptures – Designed so you can step into the sculpture, become a part of it and have your photo taken. You can also have the sculpture customized by carving names, family names, dates and just about anything into the sculpture to make it your very own - family vacation photo, Christmas card, souvenir, post card, etc.
Kids Zone - An area where the kids can practice building their own sand sculptures.
Flying Colors - John Gowdy is back this year with new material and some old favorites. John uses a blank, spinning canvas and creates a portrait of a famous person or object, timed to music in less than 10 minutes.
Sand Sculpting Demonstrations and Lessons – Learn the Tricks of the Master Sculptors
Amateur Contest – Open to anyone and all levels of sculptors, try your hand at sand sculpting
State Championships – This is a competition where an advanced amateur sand sculptor can prove their abilities and get one step closer to being accepted as a Master Sculptor.
Sand Vendor Village – More than 50 vendors from around the country offering a great selection of food, beverages, specialty retail and arts and crafts
Chainsaw Art with Rod Green – Master Chainsaw artist and former lumberjack, Rod will create works of art from logs in minutes.
Live music by Canadian recording artist, Nick Beauregard – Performing through the event, Nick is renowned for his inspirational music.
Tickets are just $5 for adults and children 5 and older, 4 and under are free. For more information, please visit http://www.FMBSandSculpting.com or the event's Facebook page.
This year, the Chamber will be coordinating all vendor involvement and volunteers. For details on participating in the event as a vendor, contact Ted Clifton at 239-848-6568 or cliftoned(at)hotmail(dot)com. To be a volunteer during the event, please contact Jane Ross at 239-454-7500. Businesses and organizations can also sponsor the event. For details, email sponsorinfo(at)FMBsandsculpting(dot)com.
Location and Transportation
The 29th Annual American Sand Sculpting Competition will once again be at the Wyndham Garden Hotel located at 6890 Estero Boulevard on Fort Myers Beach. Attendees are encouraged to arrive from the south in order to avoid traffic congestion. Event directors have coordinated a revolving bus system to transport attendees from the Lover's Key parking area to the site. Parking is also available in the Publix shopping center at Bonita.