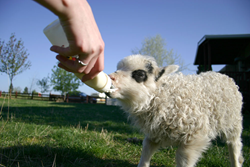 Buying local fiber from farmers in our area has many advantages. Reducing shipping costs has helped offset the high price of domestic wool processing making it more competitive with imported fibers.
Spokane, WA (PRWEB) May 30, 2014
Paradise Fibers has recently stepped up its partnership with local sheep and alpaca farms to help sell more local wool roving. Paradise has been selling domestic wool roving for years but supply has been limited and prices are well above market value. Over the last few years wool prices are at an all time high and finally it's making sense for America to get back into the wool business.
"Buying local fiber from farmers in our area has many advantages," says Travis Romine owner of Paradise Fibers. Using local farms allows Paradise to reduce shipping costs and the carbon footprint. The money saved on shipping is put right back into the farms offsetting the high costs of domestic wool processing making the price more competitive. It's also nice to keep the jobs right here in the U.S.
Working with local farms often allows for a wool roving that is not processed with chemicals. Many of the mass produced fibers for the textile industry and hobby craft industry are processed with a mild acid to reduce vegetation. The small mills don't use these types of processes resulting in a softer more organic wool roving with more of the natural wool properties.
Paradise is making new partnerships with farmers and local mills every day. Paradise has long range plans to open an independent mill with subsidized funding from grants alongside Paradise Fibers. Setting up a local mill for efficient processing will allow farmers to get a great price on their wool and help keep the wool yarn and roving at a competitive price for consumers.
Paradise Fibers has been in business since 1997 selling wool roving, knitting yarn, spinning wheels and craft supplies. The company is family owned and operated and consists of a variety of Romine family members young and old with a sprinkle of dedicated fiber junkies and stunt men.
Contact:
Travis Romine
info(at)paradisefibers(dot)com
http://www.paradisefibers.com