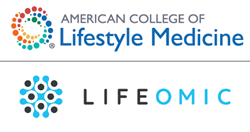 "LifeOmic's goal is to help prevent and reduce the risk of chronic disease while empowering individuals with the tools to make healthy decisions each day."
ST. LOUIS (PRWEB) May 26, 2022
The American College of Lifestyle Medicine (ACLM) has announced the addition of precision cloud-based health and wellness software provider LifeOmic to its Lifestyle Medicine Corporate Roundtable, a group of thought leaders and industry professionals who explore effective clinical innovations, activate marketing strategies, accelerate reimbursement and policy adoption, and pursue research and demonstrations of lifestyle medicine in practice. ACLM launched its Corporate Roundtable in 2016 and it now includes more than 40 active member organizations in the lifestyle medicine ecosystem.
Lifestyle medicine is a medical specialty that uses therapeutic lifestyle interventions as a primary modality to treat chronic conditions including, but not limited to, cardiovascular diseases, type 2 diabetes, and obesity. Lifestyle medicine certified clinicians are trained to apply evidence-based, whole-person, prescriptive lifestyle change to treat and, when used intensively, often reverse such conditions. Applying the six pillars of lifestyle medicine—a whole-food, plant-predominant eating pattern, physical activity, restorative sleep, stress management, avoidance of risky substances and positive social connections—also provides effective prevention for these conditions.
The LifeOmic Precision Wellness platform provides a range of solutions for companies, providers, researchers, and individuals. The platform takes a scientifically rigorous approach to tracking employee health, providing personalized advice and identifying health issues early – all while providing an engaging employee experience. LifeOmic's Precision Wellness solution uses data aggregation and technology created to diagnose and treat the most complex and aggressive cancers in combination with mobile applications that already have more than four million users worldwide.
The LifeOmic wellness platform helps organizations bridge the gap between traditional corporate wellness and traditional healthcare. The core tenants of the program, the Five Pillars of Health (physical activity, nutrition, mindfulness, sleep and intermittent fasting), were built by a team of physicians, oncologists and scientists and leverage the latest research in wellness, medicine, epigenetics and disease prevention.
The wellness platform and suite of mobile apps leverage the LifeOmic Precision Health Cloud (PHC), the most advanced cloud platform available for storing, retrieving and analyzing data. It has robust capabilities to power health applications focused on clinical care, research, patient recovery, wellness and more.
LifeOmic's goal is to help the masses prevent and reduce their risk of chronic disease while empowering individuals with the tools to make healthy decisions each day that help them live a longer, healthier life. This is achieved by taking a customizable cloud-based platform that is HIPAA compliant and HITRUST certified and allowing individuals to create their own program for data aggregation and visualization, or use provided templates that incorporate daily to-dos, blood biomarker panels, wearable data, social support circles and gamification.
"We created LifeOmic and LifeOmic Precision Wellness with the mission to effectively and efficiently encourage personalized healthy habits that ultimately improve lives," said LifeOmic Founder and CEO Dr. Don Brown. "Being part of the American College of Lifestyle Medicine Corporate Roundtable not only helps demonstrate our dedication to lifestyle medicine but also gives us an amazing opportunity to join its members in creating new innovations that will lead to a transformation in the healthcare space."
"The corporate wellness industry has exploded in recent years, especially in response to the COVID-19 pandemic," said ACLM President Cate Collings, MD, MS, FACC, DipABLM. "However, as employers continue to invest in workplace wellness programs, many report not seeing a return on investment nor an improvement in health outcomes for their employees. In order to be successful, the industry must provide truly personalized health and wellness recommendations, which is what LifeOmic aims to achieve with its health and wellness software products that are scalable and secure. We welcome them to the ACLM Corporate Roundtable."
ABOUT LIFEOMIC: LifeOmic is a precision health and wellness software company that covers the entire healthcare continuum from prevention to management. LifeOmic was launched in 2016 with the goal of helping people at any and all organizations to live a longer and healthier life with our mobile apps and cloud-based platform built for medical data. It was founded by successful serial entrepreneur, Don Brown, MD, and is located in Indianapolis, IN.
ABOUT ACLM--The American College of Lifestyle Medicine is the nation's medical professional society advancing lifestyle medicine as the foundation for a redesigned, value-based and equitable healthcare delivery system, leading to whole person health. ACLM educates, equips, empowers and supports its members through quality, evidence-based education, certification and research to identify and eradicate the root cause of chronic disease, with a clinical outcome goal of health restoration as opposed to disease management.