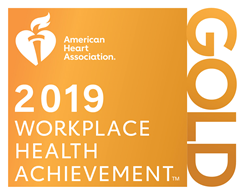 We are honored to achieve Gold Level status with the AHA's Index, and we are equally pleased to see several of our clients gaining recognition as well.
CHICAGO (PRWEB) October 24, 2019
The results of the American Heart Association 2019 Workplace Health Achievement Index have been announced, and CHC Wellbeing achieved Gold Level recognition for taking significant steps to build a culture of health in the workplace. Based in Chicago, CHC works nationally to help individuals and organizations go beyond wellness to true potential.
The American Heart Association created the Index with its CEO Roundtable, a leadership collaborative of more than 40 CEOs from some of America's largest companies who are committed to applying evidence-based approaches to improve their employees' overall health. The Index uses science-based best practices to evaluate the overall quality and comprehensiveness of their workplace health programs. Studies show that worksites with a culture of health with comprehensive, evidence-based policies and programs, and senior leadership support are more likely to have engaged employees and a healthier, more productive workforce.
A unique feature of the Index is that it calculates an average heart health score for employees of participating companies that securely submit aggregate health data. Companies receive benchmarking reports, which allow them to identify potential areas of improvement so that they can advance their annual performance and recognition.
CHC also assisted several clients with the submission process as well. In total, five CHC clients were recognized by the Index, including:
Gold Level

Silver Level

Chicago Cubs
Oak Lawn Park District
Bronze Level

American College of Healthcare Executives
Old Second National Bank
"We are honored to achieve Gold Level status with the AHA's Index, and we are equally pleased to see several of our clients gaining recognition as well," said Ramki Ramanarayanan, CEO with CHC Wellbeing. "Our daily business is centered on helping individuals thrive at work and at home. This is true for our own colleagues, as well as our clients. To see our efforts validated by such a prestigious and rigorous initiative is both exciting and humbling for our organization."
About CHC Wellbeing
CHC Wellbeing goes beyond wellness to true potential, helping individuals excel in every facet of their lives: physically, emotionally, socially and financially. With a proven track record of serving over a thousand clients, our evidence-based wellbeing strategies reduce costs, improve productivity and nurture an environment where people do their best work. Learn how you can reach your true potential by visiting http://www.chcw.com.
About the American Heart Association
The American Heart Association is a relentless force for a world of longer, healthier lives. We are dedicated to ensuring equitable health in all communities. Through collaboration with numerous organizations, and powered by millions of volunteers, we fund innovative research, advocate for the public's health and share lifesaving resources. The Dallas-based organization has been a leading source of health information for nearly a century. Connect with us on heart.org, Facebook, Twitter or by calling 1-800-AHA-USA1.